Publication:
VRetorik: un videojuego en realidad virtual para mejorar las habilidades de hablar en público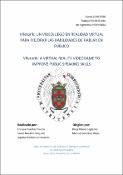 Advisors (or tutors)
Editors
Abstract
Una búsqueda en Google sobre el "miedo a hablar en público" es suficiente para obtener más de ocho millones de resultados. Esto no es una coincidencia, porque el 75% de la población (glossophobia, 2011) sufre de esta fobia. Es por eso que numerosos estudios y herramientas se han llevado a cabo en los últimos años para mejorar las habilidades de hablar en público (Anke W.Blote, 2009). Orai (Orai, 2018) o Chiara (Chiara, n.d.) son algunos ejemplos de aplicaciones capaces de crear capacitación personalizada después de grabar y analizar un discurso. También existen juegos de mesa, como Retorik (Juanjo Mestre y Marta Segarra, n.d.) un juego de cartas donde los jugadores deben improvisar un discurso, mejorando sus habilidades de comunicación oral mientras juegan. En este proyecto, hemos combinado ambos mundos para crear un videojuego de realidad virtual que sea capaz de analizar al orador y darle feedback para mejorar sus habilidades de comunicación. Este documento detalla el diseño y la creación de VRetorik, un videojuego educativo en realidad virtual destinado a mejorar estas habilidades. Se basa en la improvisación y la creatividad para gamificar la experiencia del jugador. El sistema analiza el contenido del discurso y las emociones transmitidas por el orador para proporcionar feedback a este. De esta manera, el orador mejora las habilidades de hablar en público mientras juega.
A Google search about the "fear of public speaking" is enough to obtain more than eight million results. This is not a coincidence, because 75% of the population suffers from this phobia. That is why numerous studies and tools have been carried out in recent years to improve public speaking skills. Orai or Chiara are some examples of apps able to create personalized training after recording and analyzing a speech. There are also board games, such as Retorik, a card game where players must improvise a speech, improving their communication skills while playing. In this project, we have combined both worlds to create a virtual reality video game that was able to analyze the speaker and give him feedback to improve his communication skills. This document details the design and creation of VRetorik, an educational video game in virtual reality aimed at improving these skills. It relies on improvisation and creativity to gamify the player experience. The system analyzes the speech content and the emotions transmitted by a speaker to provide feedback. In this way, the speaker improves the ability of public speaking while playing.
Description
Trabajo de Fin de Grado en Ingeniería Informática, Facultad de Informática UCM, Departamento de Ingeniería del Software e Inteligencia Artificial, Curso 2019/2020.