Publication:
Aspectos estructurales de peroxidasas de tipo DYP de "Auricularia auricula-judae" y de "Pleurotus ostreatus"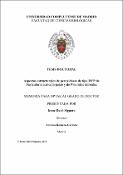 Files
Authors
Advisors (or tutors)
Editors
Publisher
Universidad Complutense de Madrid
Abstract
Las hemo peroxidasas son proteínas que catalizan reacciones de óxido–reducción deuna gran variedad de sustratos en presencia de peróxido de hidrógeno. Las peroxidasas de tipo DyP, también denominadas peroxidasas decolorantes de tinte ("dye–decolorzing peroxidases"), son hemo peroxidasas presentes en bacterias, arqueas, protistas y hongos, con una gran diversidad de secuencia. Estas enzimas se caracterizan por su gran estabilidad frente a las condiciones más extremas de pH, temperatura y presión. Catalizan la oxidación de sustratos muy variados entre los que se encuentran compuestos poco biodegradables como la lignina o los colorantes antraquinónicos y azoicos, actividad queda nombre a este peculiar grupo. Su gran estabilidad y su actividad catalítica frente a sustratos poco biodegradables ha suscitado un gran interés en el campo de la biotecnología, con aplicaciones en ámbitos tan variados como la biorremediación de medios contaminados por residuos industriales, la producción de biocombustibles, el tratamiento de materias primas para uso industrial o la síntesis orgánica de compuestos. En esta tesis, en colaboración con el grupo de Biotecnología para la Biomasa Lignocelulósica del Centro de Investigaciones Biológicas (CSIC), se han resuelto las estructuras de dos enzimas fúngicas de hongos basidiomicetos de la podredumbre blanca, pertenecientes a las peroxidasas de tipo DyP: DyP1 de Auricularia auricula–judae yDyP4 de Pleurotus ostreatus...
Heme peroxidases catalyse the hydrogen peroxide–dependent oxidation of a wide variety of substrates. Dye–decolorizing peroxidases are bacterial, archaeal, protist and fungal heme proteins with a high diversity of amino acid sequences. This family has a remarkable stability at extreme temperature, pressure and pH values. A distinct characteristic of these enzymes is their ability to oxidize a broad range of compounds, including poorly biodegradable materials such as lignin. DyPs exhibit a high decolorizing activity by oxidizing recalcitrant and dispersive dyes such as anthraquinone and azo dyes. Its high stability and its catalytic activity against poorly biodegradable compounds, arouses a great biotechnological interest in different fields such as bioremediation, biofuels production, bioconversion of raw materials or organic synthesis. In collaboration with Biotechnology for the Lignocellulosic Biomass group at Biological Reasearch Center (CSIC), in this thesis we have solved the structures of two fungal dye–decolorizing peroxidases from white–rot basidiomycetes: DyP1 from Auricularia auricula–judae and DyP4 from Pleurotus ostreatus...
Description
Tesis inédita de la Universidad Complutense de Madrid, Facultad de Ciencias Biológicas, Departamento de Bioquímica y Biología Molecular, leída el 14-11-2019
Collections