Publication:
Contribución al estudio de la alteridad en los relatos fantásticos de Henri de Régnier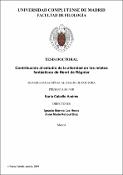 Files
Authors
Advisors (or tutors)
Editors
Publisher
Universidad Complutense de Madrid
Abstract
Esta tesis pretende establecer las bases de la importancia que posee el concepto de alteridad en el mecanismo que desencadena el efecto fantástico en la literatura llamada fantástica. El concepto de alteridad, en este sentido, ha sido considerado como el elemento perturbador que irrumpe en el universo cotidiano de los personajes. En la primera parte de esta investigación, la profundización en el concepto de fantástico nos ha permitido observar las diversas transformaciones que fueron operándose desde la introducción de este tipo de producciones en la literatura francesa de la época romántica, hasta las plasmaciones propias del fin de siglo francés. Asimismo, a través del análisis de la alteridad, hemos podido apreciar una evolución semejante, que avanza desde la manifestación exteriorizada, propia de los primeros años de las producciones fantásticas, hasta la interiorización que caracteriza la época fin de siglo, momento en el que la alteridad evidencia claramente el conflicto identitario que desgarra la sociedad y que se refleja en la producción literaria de este periodo...
The aim of this thesis is to establish the bases for the importance of the concept of otherness in the mechanism which gives rise to the fantasy effect in so-called fantasy literature. The concept of otherness, in this sense, is considered as the disturbing element that invades the characters' everyday world. In the first part of this research, deepening our understanding of the concept of fantasy allowed us to observe the various transformations that occurred between the emergence of this type of writing in the French literature of the romantic period and the specific forms of the fin de siècle. In addition, through the analysis of otherness, we observed a similar development, progressing from the externalisation typical of the early years of fantasy writing to the internalisation that characterised the fin de siècle, a time at which otherness was a clear demonstration of the conflict of identity tearing society apart, which is reflected in the literary works of this period...
Description
Tesis inédita de la Universidad Complutense de Madrid, Facultad de Filología, leída el 10/07/2019
Collections