Publication:
Estudio de los efectos del tratamiento con antidepresivos sobre el consumo de alcohol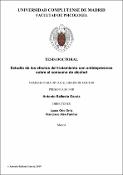 Files
Authors
Advisors (or tutors)
Editors
Publisher
Universidad Complutense de Madrid
Abstract
El trastorno por uso de alcohol (TUA) supone un importante problema sanitario con alto coste social y económico nivel global. El TUA se define como un patrón patológico de comportamientos relacionados con el consumo de alcohol, en un continuo de gravedad variable. En este enfoque dimensional, el trastorno adictivo o la adicción al alcohol sería la forma más grave, definiéndose como un trastorno crónico potencialmente recurrente, caracterizado por una compulsión por la búsqueda del alcohol, una pérdida sobre el control de su consumo, así como por la manifestación de un malestar significativo ante la ausencia del mismo implicando profundos cambios en la neurotransmisión y en procesos de neuroplasticidad en distintas regiones cerebrales. Con frecuencia, el TUA cursa con trastornos del estado de ánimo, como la depresión, una condición que, además, contribuye a empeorar el curso de ambas patologías. De este modo, el uso del tratamiento farmacológico antidepresivo es frecuente en el abordaje terapéutico en los pacientes comórbidos. Los sistemas glutamatérgico y endocannabinoide (sEC), así como la neurogénesis adulta del hipocampo, parecen tener una importante participación tanto en la fisiopatología del TUA y la depresión, como en los efectos del tratamiento antidepresivo, si bien el conocimiento sobre estos aspectos neurobiológicos es limitado. La evidencia sobre la eficacia del tratamiento antidepresivo en estos pacientes es, hasta la fecha, inconcluyente, especialmente en lo que respecta a los efectos que este tratamiento tendría sobre aspectos relacionados con el consumo de alcohol. Además, los estudios previos llevados a cabo en nuestro laboratorio han mostrado que algunos antidepresivos tendrían repercusiones negativas sobre el consumo de alcohol en la recaída...
Alcohol use disorder (AUD) is an important health problem with high social and economic costs at the global level. AUD is defined as a pathological pattern of behavior related to alcohol consumption, in a continuum of variable severity. In this dimensional approach, the addictive disorder or alcohol addiction would be the most severe form, defining itself as a chronic disorder potentially recurrent, characterized by a compulsion to search for alcohol, a loss of control over its consumption, as well as by the manifestation of a significant negative emotional state in the absence of alcohol, implying profound changes in neurotransmission and in neuroplasticity processes in different brain regions. AUD often leads to mood disorders, such as depression, a condition that also contributes to worsening the course of both conditions. Thus, the use of antidepressant drug treatment is common in the therapeutic approach in comorbid patients. The glutamatergic and endocannabinoid (sEC) systems, as well as the adult neurogenesis of the hippocampus, appear to have an important role both in the pathophysiology of TUA and depression, and in the effects of antidepressant treatment, although knowledge of these neurobiological aspects is limited. The evidence on the efficacy of antidepressant treatment in these patients is, to date, inconclusive, especially with regard to the effects this treatment would have on aspects related to alcohol consumption. In addition, previous studies carried out in our laboratory have shown that some antidepressants would have a negative impact on alcohol consumption in relapse...
Description
Tesis inédita de la Universidad Complutense de Madrid, Facultad de Psicología, leída el 04/11/2019
Collections