Publication:
Nuevas modificaciones lipídicas implicadas en autofagia: papel en la enfermedad de Parkinson y el envejecimiento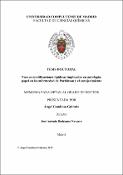 Files
Authors
Advisors (or tutors)
Editors
Publisher
Universidad Complutense de Madrid
Abstract
La enfermedad de Parkinson es la segunda enfermedad neurodegenerativa en cuanto al número de personas afectadas. El envejecimiento es el mayor factor de riesgo de padecerla y se caracteriza por la muerte de neuronas dopaminérgicas de la Substantia Nigra y por la presencia de agregados conocidos como cuerpos de Lewy. La agregación proteica es producto de alteraciones en el correcto plegamiento de proteínas y en los procesos intracelulares de degradación, el sistema ubiquitinaproteasoma y la autofagia. Los agregados proteicos inducen daños que desencadenan la muerte neuronal. La macroautofagia (a partir de ahora autofagia) se caracteriza por la formación de orgánulos de doble membrana, autofagosomas, que engloban material citoplásmico para su degradación en lisosomas. La correcta progresión de las distintas fases de la autofagia requiere la participación de diferentes clases de lípidos que controlan la iniciación de la autofagia, la lipidación de proteínas clave como LC3 o la síntesis de las membranas delos autofagosomas y su posterior fusión con la membrana de los lisosomas...
Parkinson's disease is the second most prevalent neurodegenerative disease, only after Alzheimer's disease. Aging is the most important risk factor of suffering the disease. It courses with Substantia Nigra's neuronal death and intracellular protein aggregates, known as Lewy's bodies. Protein aggregation is a product of alterations in the correct folding of proteins and in the intracellular degradation processes, ubiquitin-proteasome system and autophagy. These aggregates inhibit autophagy and induce damage (Reactive Oxygen Species production, microglial activation, mitochondrial dysfunction) that promotes the neuronal death. Macroautophagy (hereafter termed autophagy) is characterized by the formation of double membrane organelles, autophagosomes, which engulf cytoplasmic material to their degradation into lysosomes. One of the most studied types of autophagy is Parkin dependent mitophagy. Lipids are important to the correct progression of the autophagic process by controlling autophagy initiation, LC3 lipidation or synthesis of autophagosomal membranes and their fusion with lysosomes...
Description
Tesis inédita de la Universidad Complutense de Madrid, Facultad de Ciencias Químicas, Departamento de Bioquímica y Biología Molecular, leída el 08-07-2019
Collections