Publication:
Valor del capital psicológico en la calidad de vida del personal militar: un programa de entrenamiento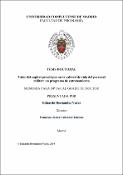 Files
Authors
Advisors (or tutors)
Editors
Publisher
Universidad Complutense de Madrid
Abstract
Uno de los objetivos que las organizaciones han pretendido por los beneficios que conllevan, tanto para los trabajadores como para sí mismas, es la felicidad y bienestar de sus empleados. Sin embargo, las condiciones propias de la vida militar pueden dificultar o entorpecer esa meta. Este estudio pretende conocer cómo el capital psicológico es capaz de predecir y mejorar el bienestar,salud y satisfacción laboral de los militares.Para ello se desarrollaron dos estudios. El primero consistió en un estudio descriptivo correlacional con una muestra de 522 militares españoles. En él, se aplicaron regresiones lineales, empleando el capital psicológico y sus componentes como predictores del bienestar, la salud y la satisfacción. Los resultados obtenidos constataron una relación positiva y significativa con un poder predictivo del 54.5% para el bienestar psicológico, un 13.9% para la satisfacción laboral, y de un 7% para la salud...
Worker happiness and wellbeing is one of the aims pretended due to the positive impact both the employer organisation and the employee. However, the hardship inherent to military life may hinder the achievement of this goal. In this study we aim to address whether the psychological capital is able to predict the psychological wellbeing, work satisfaction and health self-perception in military population.Two studies were carried out. The first one consisted on a descriptive,correlational study using a cohort of 522 Spanish military by applying multiple lineal regression, using psychological capital as predictor of work satisfaction, health self-perception and psychological wellbeing. A positive, significative correlations were detected between the variables, and the predictive power of psychological capital was 54.5% for wellbeing, 13.9% for work satisfaction, and, 7% for health..
Description
Tesis inédita de la Universidad Complutense de Madrid, Facultad de Psicología, Departamento de Personalidad, Evaluación y Tratamientos Psicológicos I leída el 07-11-2019
Collections