Publication:
Análisis de la función y la calidad visual tras cirugía de catarata con implante de lente intraocular multifocal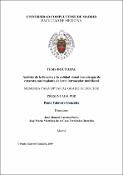 Files
Authors
Advisors (or tutors)
Editors
Publisher
Universidad Complutense de Madrid
Abstract
Hoy en día el objetivo de la cirugía de catarata ya no es sólo eliminar la catarata sino que cada vez las demandas de los pacientes han aumentado, queriendo obtener una buena agudeza visual en todas las distancias sin síntomas subjetivos asociados.Hasta hace pocos años, con las lentes intraoculares monofocales se conseguía una buena agudeza visual en lejos con necesidad de corrección óptica para la visión próxima.Actualmente se han desarrollado las lentes intraoculares multifocales, destinadas a obtener buena agudeza visual no solo en lejos, sino también en más focos.Este tema es de tal actualidad, que no solamente se emplean las lentes multifocales tras la extracción de la catarata sino también tras la extracción de cristalino transparente en personas de menor edad con fines refractivos.Al implantar una lente multifocal se consiguen buenos objetivos en cuanto a visión, pero algunos de los principales inconvenientes son la disminución de la sensibilidad al contraste y la aparición de fenómenos disfotópsicos, pudiendo reducir la calidad visual...
Nowadays, the objective of cataract surgery it's not only to eliminate the cataract. Patients are increasing demanding and they want to obtain a good visual acuity in all distances without optical correction and associated subjective symptoms.Until a few years ago with monofocal intraocular lenses patients achieved good levels of visual acuity in far distance requiring optical correction for near vision.Currently multifocal intraocular lenses have been developed to obtain good levels of visual acuity not only in far distance.The relevance of multifocal intraocular lenses are very important. These lenses are used in younger people after transparent crystalline lens extraction with refractive purposes.With the implantation of a multifocal intraocular lens we obtain good levels of vision but one of the most important disadvantages is the decrease in contrast sensibility and the appearance of disfotopsic phenomena. These two parameters could reduce the visual quality...
Description
Tesis inédita de la Universidad Complutense de Madrid, Facultad de Medicina, leída el 11-11-2019
Collections