Publication:
Estudio de cataratas en edad pediátrica en el Hospital Infantil Niño Jesús de Madrid. Protocolo diagnóstico y terapéutico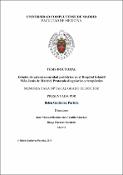 Files
Authors
Advisors (or tutors)
Editors
Publisher
Universidad Complutense de Madrid
Abstract
Las cataratas en edad pediátrica constituyen un problema para el oftalmólogo, desde el punto de vista médico y quirúrgico. En los niños, el sistema visual se está desarrollando, por lo que una catarata detectada en la infancia puede tener unas consecuencias devastadoras para el pronóstico visual si no se trata adecuadamente. La cirugía es importante, pero el tratamiento rehabilitador visual posterior lo es en la misma medida, o incluso más. En los países desarrollados, entre 1-3 niños/10.000 habitantes tiene cataratas congénitas. En España se detectan unos 160 casos de cataratas bilaterales en niños cada año...
The cataracts in pediatric age constitute a handicap for the ophthalmologist, from the medical and surgical point of view. In children, the visual system is developing, so a cataract detected in childhood can have devastating consequences for visual prognosis if not treated properly. Surgery is important, but the posterior visual rehabilitative treatment is in the same measure, or even more. In developed countries, between 1-3 children / 10,000 inhabitants have congenital cataracts. In Spain, about 160 cases of bilateral cataracts are detected in children everyyear...
Description
Tesis inédita de la Universidad Complutense de Madrid, Facultad de Medicina, Departamento de Inmunología, Oftalmología y Otorrinolaringología, leída el 07-11-2019. Tesis retirada por expreso deseo de la autora
Collections