Publication:
Aproximación traslacional a la neurofisiología y conducta de la tartamudez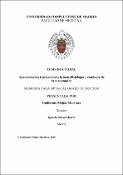 Files
Authors
Advisors (or tutors)
Editors
Publisher
Universidad Complutense de Madrid
Abstract
La tartamudez o disfemia es un trastorno del habla generalmente en la parte espontánea y proposicional, es decir cuando se utiliza para comunicarse en situaciones cotidianas. Se caracteriza por repeticiones, prolongaciones o interrupciones durante el discurso normal fluido y conlleva un gran sufrimiento personal provocando un deterioro notable en la calidad de vida. El objetivo de esta tesis es aportar una aproximación traslacional de la patología. Primero se han estudiado los mecanismos de la principal técnica neuromodulatoria (estimulación magnética transcraneal) que se propone como mayor potencial terapéutico de la tartamudez (estudio I). Segundo, se han estudiado los mecanismos de la tartamudez y los cambios en la excitabilidad cortical respecto a controles, así como la predisposición a sufrir trastornos de deglución (estudio II). Tercero, se han abordado los mecanismos cognitivos que refuerzan los comportamientos secundarios negativos de la patología (estudio III) y cuarto se han puesto en práctica en forma de dos casos clínicos los abordajes terapéuticos planteados (estudio IV)...
Stuttering is a speech disorder that shows up in everyday communication. It is characterized by repetitions, prolongations or interruptions during normal fluid speech. Stuttering is recognized as a disability in Spain, but its greatest damage lies in the apparently volatile nature of its manifestation and the limited possibility of self-control. Stuttering involves a social stigma that causes great personal suffering and a low quality of life. In this thesis, an integral approach has been sought through various disciplines for an integral characterization of the pathology. First, the mechanisms of the main neuromodulatory technique (transcranial magnetic stimulation) that is proposed as a major therapeutic potential have been studied (study I). Then the mechanisms of stuttering by changes in cortical excitability compared to controls and predisposition to suffer deglutition disorders have been covered (study II). Furthermore, we have studied the cognitive mechanisms that reinforce the negative secondary behaviors of the disorder (study III). Finally, we have put into test two therapeutic approaches in clinical cases (study IV)...
Description
Tesis inédita de la Universidad Complutense de Madrid, Facultad de Medicina, leída el 12-11-2019
Collections