Publication:
La distribución de riesgos en la concesión de servicios. Crítica del riesgo operacional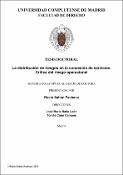 Files
Authors
Advisors (or tutors)
Editors
Publisher
Universidad Complutense de Madrid
Abstract
El último paquete de directivas en materia de contratación pública de 2014 trajo consigo la armonización del contrato de concesión por primera vez en el Derecho comunitario con la Directiva 2014/23/UE, de 26 de febrero, relativa a la adjudicación de contratos de concesión. Si bien la concesión de obras ya se encontraba regulada por la Directiva 18/2004/CE, ésta es la primera ocasión en que se aborda el negocio concesional en su conjunto (tanto para concesiones de obras como de servicios) y de forma independiente (esto es, en una Directiva diferente a aquella en la que se regulan el resto de contratos públicos). Con la transposición de la Directiva a nuestro derecho mediante la Ley 9/2017 de 8 de noviembre de Contratos del Sector Público, se incorpora a nuestro ordenamiento un concepto relativamente nuevo como es el 'riesgo operacional' que inexorablemente se vincula al contrato de concesión, convirtiéndolo en un criterio diferenciador clave entre las concesiones y el resto de contratos. Objetivos. El principal objetivo de la tesis es la realización de un estudio integral de la cuestión del riesgo en las concesiones de servicios mediante el análisis del problema de la distribución del riesgo en este tipo de contratos de un modo que permita al lector conocer el asunto desde todas sus aristas –la económica, la jurídica y la práctica–. Más concretamente, la presente tesis doctoral busca comprender el sentido actual de la concesión de servicios en el ámbito europeo para valorar si sigue coincidiendo con el concepto clásico de concesión que nuestra doctrina, jurisprudencia y normativa han mantenido a lo largo de los años o si, por el contrario, puede afirmarse que el concepto de concesión ha cambiado. Del mismo modo, se pretende valorar si tiene sentido transferir dicho riesgo desde el punto de vista de la eficiencia del contrato, para lo cual resultará necesario conocer previamente cómo funciona económicamente el riesgo en la colaboraciones públicoprivadas. Por último, se debe determinar cuál es exáctamente el contenido del riesgo operacional, así como qué relación guarda con el tradicional riesgo atribuido a las concesiones en nuestra legislación, qué cambios normativos ha propiciado y qué consecuencias puede tener en la práctica...
The last directive package in the field of public procurement of 2014 has brought about the harmonization of concession contracts for the first time in European Union Law through the Directive 23/2014/UE of the European Parliament and of the Council, of 26 february on the award of concession contracts. Although public works concessions were already regulated in the Directive 18/2004/CE, this is the first ocassion in which this kind of contracts are tackled as a whole (for both public works and services concessions) and independently (regulated in a different directive to the rest of the contracts). The implementation of the Directive into national law has meant the introduction of a new concept of risk that is now compulsorily linked to concessions and that becomes the main distinguishing element between concessions and the rest of the contracts. The main objective is to undertake a complete and comprehensive study of risk-sharing in this kind of contracts in a way that permits the reader to understand the subject matter from all angles –economic, legal, and practical–. More precisely, we are seeking to understand whether concessions in European Union Law mean the same as our traditional concessions, or if they refer to a different kind of agreements. It will also be important to learn the economic functioning of risk in public-private partnerships in general in order to figure out if it is always advisable, from the point of view of efficiency, to transfer the risk to the concessionaire. Finally, we will determine what the 'operational risk' exactly means, what the difference is between this risk and the one that has traditionally been assigned to concessions in our legal system, what legal changes it has brought, and what consequences can be derived from its introduction...
Description
Tesis inédita de la Universidad Complutense de Madrid, Facultad de Derecho, Departamento de Administrativo, leída el 18/07/2019
Collections