Publication:
Estudio y edición de "El Cortesano" de Luis Millán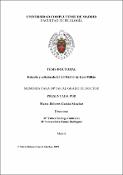 Files
Authors
Advisors (or tutors)
Editors
Publisher
Universidad Complutense de Madrid
Abstract
El objeto de la presente tesis doctoral ha sido elaborar una edición crítica, acompañada de un estudio introductorio y notas, de la obra de Luis Milán titulada El cortesano, que se publicó en Valencia en 1561. El punto de partida ha sido la identificación de los ejemplares conservados de la editio princeps y su posterior cotejo, con la finalidad de fijar un texto siguiendo criterios filológicos. En dicho proceso se ha buscado el mayor equilibrio posible entre el respeto al original y la necesidad de modernización. Se ha tratado, en definitiva, de facilitar la lectura de una obra distante en el tiempo, pero sin renunciar por eso a reflejar la realidad lingüística que representa en un contexto histórico específico. Sobre todo teniendo en cuenta que se trata de una obra parcialmente bilingüe (en castellano y en la variante valenciana del catalán) y en la que, de manera ocasional, también aparecen expresiones en otras lenguas (francés, portugués, italiano o latín)...
The purpose of this thesis is to present a critical edition, including an introductory analysis and notes, of the book by Luis Milán entitled El cortesano [The Courtier], published in Valencia in 1561. The starting point of this critical edition was to trace surviving copies of the original work, and subsequently collate them in order to offer a definitive version based on philological criteria. This process was aimed at finding the best balance between preserving the text and the need to modernise it. The goal, in effect, was to make it easier to read a text that was written long ago, yet not forgoing a reflection of the linguistic realityit represents – particularly, taking into account that this is a partially bilingual book (written in Spanish with some parts in Catalan), which on occasions also features phrases in other languages (French, Portuguese, Italian and Latin)...
Description
Tesis inédita de la Universidad Complutense de Madrid, Facultad de Filología, leída el 18-11-2019
Collections