Publication:
Procesos de patrimonialización y actividades socio-económicas del sector minero-siderúrgico en el occidente malagueño (1820-2020)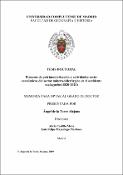 Authors
Advisors (or tutors)
Editors
Publisher
Universidad Complutense de Madrid
Abstract
La Revolución Industrial se entiende como el conjunto de cambios técnicos,económicos y sociales ocurridos en Gran Bretaña a lo largo del siglo XVIII, con especial repercusión a partir de 1770. La consecuencia de estos hechos fue la modernización de los procesos industriales, que en España comenzaron medio siglo después. En esta tesis estudiaremos el caso de la historia, y el Patrimonio Industrial, resultante de los procesos minero-siderúrgicos del siglo XIX, especialmente en el occidente malagueño. Síntesis: Coincidiendo con la llegada de los primeros indicios de la Revolución Industrial, España vivía momentos de gran inestabilidad política. Aun así, consiguió arrancar en Cataluña, en el sector textil que ya estaba en marcha y, también, en algunos puntos del sur peninsular, en Málaga y Sevilla, sobre todo. Aprovechando que estas provincias tenían abundante mineral de hierro, de muy alta calidad, se instalaron varias plantas siderúrgicas de transformación de este mineral, que fabricaron un magnífico hierro forjado con sistemas novedosos y que llegó a colocarse a la cabeza de la producción nacional, alcanzando en los años cuarenta del siglo XIX el 70% del hierro fabricado en España...
The Industrial Revolution is understood to be the set of technical, economic and social changes that occurred in Great Britain during the 18th century, with its greatest repercussions after 1770. The consequence of these events was the modernisation of industrial processes, which in Spain began half a century later. In this thesis we study the history, and the Industrial Heritage, resulting from the mining/smelting processes of the 19th century, especially in the west of Malaga. Summary: At the time of the arrival of the first signs of the Industrial Revolution, Spain was going through a period of great political instability. Even so, it managed to get a start in Catalonia, in the textile sector that was already in progress and, also, in some points of the south of the peninsula, in Malaga and Seville, above all. Taking advantage of the fact that these provinces had abundant iron ore, of very high quality, several iron and steel processing plants were established, which produced a magnificent wrought iron using innovative systems, which rose to be the major national producers, reaching, in the 1840s, 70% of the iron and steel made in Spain...
Description
Tesis inédita de la Universidad Complutense de Madrid, Facultad de Geografía e Historia, Departamento de Prehistoria, Historia Antigua y Arqueología, leída el 22-11-2019
Collections