Publication:
Estudio de la energía superficial de refuerzos por IGC para su aplicación en el desarrollo de materiales compuestos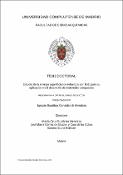 Files
Editors
Publisher
Universidad Complutense de Madrid
Abstract
En la tecnología de materiales compuestos es de vital importancia una buena adhesión entre la matriz y el refuerzo. Ambas partes son partícipes en la formación de la interfase, juegan un papel importante y deben contribuir a una adhesión adecuada. Tradicionalmente, las principales de sondas utilizadas en IGC a dilución infinita es la serie nalcano (R-H). La energía libre de adsorción de los miembros de esta serie proporciona un valor significativo: la energía libre de adsorción del grupo CH2. En este trabajo, además, se usan las series homólogas de los n-alcoholes, ROH y nalquilfenilos, RBz, como sondas para obtener información específica de las características superficiales y se describe un método para obtener el porcentaje de sitios polares, por lo tanto, la componente específica de una superficie X, Xd, y en las mismas unidades de energía, los componentes ácidos y básicos, KaX y KbX. Realizaremos un mapeo ácido-base superficial de las superficies a estudio...
In composites materials technology it is of key importance the good adhesion between matrix resin and the reinforcement. Both parts of the interface play a role and contribute to the adequate adhesion. Traditionally, the main reference set of probes used in IGC at infinite dilution is the n-alkane series (R-H). The free energy of adsorption of the members of this series provides a significant value: the free energy of adsorption of the CH2 group. In this work n-alcohol, ROH, and n-alkylphenyl, RBz, homologous series, are used as probes to obtain outstanding information of the surface characteristics and a method is described to obtain the percent fraction of polar sites, therefore the purely non-specific component of a surface X, Xd, and in the same energy units the acid and basic components, KaX and KbX. Surface acid-base mapping of the cured resin powders...
Description
Tesis inédita de la Universidad Complutense de Madrid, Facultad de Ciencias Químicas, leída el 22/11/2019
Collections