Publication:
Las reacciones adversas inmediatas relacionadas con la infusión intravenosa de medicamentos en el hospital de día oncológico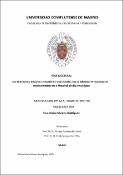 Files
Advisors (or tutors)
Editors
Publisher
Universidad Complutense de Madrid
Abstract
Todos los medicamentos pueden producir efectos indeseados y la notificación de sospecha en los casos graves, es obligatoria para todos los profesionales sanitarios. La toxicidad asociada al tratamiento quimioterapéutico debe ser evaluada continuamente con fines preventivos. La contribución del profesional de enfermería, responsable de la etapa de administración, es clave en la prevención y detección precoz de los eventos adversos derivados de esta terapia, a fin de mejorar la calidad de la atención. En este sentido la toma de decisiones en la gestión de los Hospitales de día, basada en evidencia científica, aporta valor al proceso oncológico. Parece pues oportuno, analizar en condiciones clínicas reales y de modo exploratorio, los eventos adversos relacionados con la infusión de medicamentos antineoplásicos reportados por los profesionales de enfermería, en el Hospital de día oncológico y aumentar así la información disponible. Objetivos. General: Cuantificar y caracterizar las reacciones adversas medicamentosas inmediatas en pacientes sometidos a quimioterapia antineoplásica en el Hospital de día oncológico. Específicos: 1. Describir las características bioclínicas de los pacientes y de los medicamentos administrados. 2.Describir la influencia de algunos factores socio‐demográficos, clínicos, conductuales y de tipo farmacológico, en la aparición de reacciones adversas...
All medicines can produce unwanted effects and the notification of suspicion in severe cases is mandatory for all healthcare professionals. The toxicity associated with chemotherapeutic treatment must be continuously evaluated for preventive purposes. The contribution of the nursing professional, responsible for the administration stage, is key in the prevention and early detection of adverse events derived from this therapy, in order to improve the quality of care. In this sense, decision‐making in the management of day hospitals, based on scientific evidence, adds value to the oncological process. It seems appropriate, then, to analyze in real clinical conditions and in an exploratory way, the adverse events related to the infusion of antineoplastic drugs reported by the nursing professionals, in the oncology day Hospital and thus increase the available information. General Objective Quantify and characterize the immediate adverse drug reactions in patients undergoing antineoplastic chemotherapy at the oncology day Hospital...
Description
Tesis inédita de la Universidad Complutense de Madrid, Facultad de Enfermería, Fisioterapia y Podología, leída el 29-11-2019
Collections