Publication:
Las políticas de acceso abierto a la producción científica de las instituciones de investigación de China: caracterización del modelo chino de acceso abierto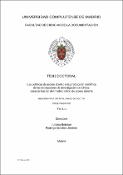 Files
Authors
Advisors (or tutors)
Editors
Publisher
Universidad Complutense de Madrid
Abstract
Debido al desarrollo de Internet, en la década de los '90 el intercambio global de conocimientos y el acceso a los recursos de información a nivel internacional se había convertido en la realidad. El modelo tradicional de publicación científica favorece las editoriales comerciales de revista, pero causa problemas a las bibliotecas y los investigadores. Por un lado, el costo de suscripción de las revistas científicas o bases de datos son una carga pesada para las bibliotecas y, por otro lado, como todos los derechos de autor han pasado a manos de las editoriales, el autor pierde el control sobre el uso posterior de su trabajo publicado. Como consecuencia de esto, comenzó a forjarse lo que pasó a llamarse el "movimiento de Acceso Abierto", con el fin de eliminar tanto de barreras económicas, como aquellas restricciones de los derechos que limitan la difusión, el acceso y la reutilización de la producción científica. China ha sido la segunda nación del mundo por su producción científica durante más de una década y sigue ocupando la posición de manera continua hoy día. Debido a esto, podemos afirmar que conocer el estado del desarrollo del Acceso Abierto en China es muy relevante, por lo que es interesante estudiar su aceptación, las políticas desarrolladas alrededor de la solución de este problema, así como las buenas prácticas de Acceso Abierto...
Due to the development of the Internet, in the 1990s the global exchange of knowledge and access to information resources internationally had become a reality. The traditional model of scientific publication favors commercial publishers of journals, but causes problems for libraries and researchers. On the one hand, the subscription cost of scientific journals or databases is a heavy burden for libraries and, on the other hand, as all copyrights have been passed to publishers, the author loses control over the use of his published work later on. As a consequence of this, what was called the "Open Access movement" began to be forged, in order to eliminate both economic barriers and restrictions on rights that limit the diffusion, access and reuse of production. China has been the second nation in the world for its scientific production for more than a decade and continues to occupy the position continuously today. Due to this we can affirm that knowing the state of the development of Open Access in China is very relevant, so it is interesting to study its acceptance, the policies developed around the solution of this problem, as well as the good practices of Open Access in China...
Description
Tesis inédita de la Universidad Complutense de Madrid, Facultad de Ciencias de la Documentación, leída el 31/10/2019
Collections