Publication:
Modelo EduCARE para el análisis, diagnosis y evaluación del impacto de los contenidos audiovisuales en valores humanos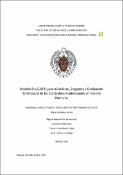 Files
Authors
Advisors (or tutors)
Editors
Publisher
Universidad Complutense de Madrid
Abstract
Analizar los distintos valores personales de los estudiantes de formación empresarial y comunicación es una investigación clave, porque ellos serán los futuros líderes de empresas y organizaciones. Los valores personales de estos estudiantes, influirán en su comportamiento y decisiones. Además, determinarán la dirección de las instituciones, compañías y de las organizaciones empresariales.Es por ello necesario aprender más sobre sus valores. Además, a medida que más escuelas y compañías reclutan y admiten a un mayor número de estudiantes de los países analizados en este trabajo, es muy clarificador entender si los valores de los jóvenes difieren entre distintas nacionalidades.Esta investigación examina, concretamente, los valores personales y los sistemas de valores de los estudiantes de empresa y comunicación en España y compara los resultados con los que hemos obtenido en Portugal, Brasil, Macedonia del Norte e India, mediante la metodología y Encuesta de Valores de Rokeach y la tipología de Musser y Orke con un método Forward para la introducción de los elementos al modelo...
Analyzing the different personal values of business and communication students is a key research, because they will be the future leaders of companies and organizations. The personal values of these students will influence their behavior and decisions. In addition, they will determine the direction of institutions, companies and business organizations.It is therefore necessary to learn more about their values. As more schools and companies recruit and admit a greater number of students from the countries analyzed in this study, it is also very useful to understand how the values of young people differ among different nationalities.This research examines, in particular, the personal values and value systems of business and communication students in Spain, and compares the results with those obtained in Portugal, Brazil, Northern Macedonia and India, through the methodology and Values Survey of Rokeach and the typology of Musser and Orke...
Description
Tesis inédita de la Universidad Complutense de Madrid, Facultad de Ciencias de la Información, Departamento de Comunicación Audiovisual, Publicidad y Relaciones Públicas, leída el 14-01-2020
Collections