Publication:
El uso de la carta como método en la evaluación de programas de mejora en la expresión escrita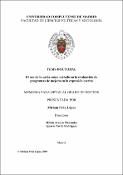 Files
Authors
Advisors (or tutors)
Editors
Publisher
Universidad Complutense de Madrid
Abstract
Esta tesis analiza la carta: una técnica que requiere la escritura y lectura de mensajes personales para evaluar el programa "Il calcio, i miei amici ed io (ICIMAEI)".Esta técnica, basada en premisas sociológicas, es un método que permite obtener datos primarios con los que determinar el mérito o valor de proyectos que tratan de mejorar la expresión escrita de niños y niñas entre 7 a 11 años de edad que cursan educación primaria en zonas multiétnicas. La parte teórica realiza un balance de los antecedentes del uso de la carta en las ciencias sociales y de las premisas sociológicas que orientan un proceso de evaluación que se preste al uso de la técnica de la carta: el interaccionismo simbólico y estructural; la teoría de la figuración y el constructivismo estructuralista. Asimismo se consideran proposiciones de la Nueva Sociología de la Infancia para usar la carta en evaluaciones de programas destinados a niños y niñas de siete años en adelante...
This thesis analyzes the letter: a technique that request to write and to read personal letters in the evaluation of the program "Il calcio, i miei amici ed io, (ICIMAEI)". It is based on sociological premises to provide an alternative to determine the merit or value of interventions, whose main purpose is to improve the writing expression of boys and girls between 7 and 11 years old in the context of multiethnic schools.The first theoretical part begins by describing the use of personal letters in Social Sciences. Then, introduce sociological premises that guide an evaluation process using the letter technique as a method. Thus, Symbolic and Structural Interactionism, Figuration theory and Structuralist Constructivism are reviewed as a way of understanding the letter technique as a useful tool to get primary data.The New Sociology of Children is also considered to help understanding how to use the letter technique in evaluations of children's programs. The second theoretical part reviews the state of Research on Evaluation and Program Evaluation literature, and exposes problems and criticisms that program evaluations must face under the mixed methods paradigm in which the letter technique would be articulated as a method...
Description
Tesis inédita de la Universidad Complutense de Madrid, Facultad de Ciencias Políticas y Sociología, Departamento de Sociología: Metodología y Teoría, leída el 29-11-2019
Collections