Publication:
Procesos escriturales en la obra de Daniele del Giudice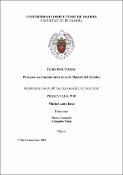 Files
Authors
Advisors (or tutors)
Editors
Publisher
Universidad Complutense de Madrid
Abstract
La hipótesis subyacente a la presente tesis doctoral plantea que la obra literaria de Daniele Del Giudice se caracteriza por una fuerte dimensión civil y política que impregna los problemas ontológicos y, de manera más obvia, culturales, sociales e históricos. Se trata de una dimensión mayormente oculta, ya que, como admitió el propio escritor, lanarrativa utiliza una "forma mediada de producir significado" con respecto a los idiomas fuertes de la ideología política y de la experiencia intelectual en los años setenta. El objetivo principal de este trabajo es analizar ese compromiso oculto o indirecto (Antonello y Mussgnug, 2009), como una nueva posibilidad de demostrar quela postmodernidad no equivale a una desconexión política y social y que, de hecho, el paradigma postmoderno todavía tiene "el potencial heurístico de una concepción antidogmática, antijerárquica, abierta y plural del conocimiento" (Meschini, 2018: 9).Como muestra el académico italiano Antonello, incluso asumiendo una actitud de escepticismo, desencanto e ironía, que rechaza la Verdad, es posible mantener una posición de compromiso civil y político si las formas de intervención civil y política se reformulan en términos "post-ideológicos" o "post-hegemónicos", reconociendo formas de compromiso reflexivas y micropolíticas que pueden cohabitar con otras formas más tradicionales y con mayor connotación ideológica...
The underlying hypothesis of this doctoral thesis is that Daniele Del Giudice's literarywork is characterized by a strong civil and political commitment that permeatesontological problems and obviously cultural, social and historical issues. It is a largelyhidden dimension since, as the writer himself admitted, the narrative uses a "mediatedway of producing meaning" with respect to the strong languages of political ideology andintellectual experience in the 1970s.The main objective of this work is to analyze this hidden or indirect commitment (Antonello and Mussgnug, 2009) as a new possibility to demonstrate thatpostmodernity does not amount to a political and social disconnection and that, in fact,the postmodern paradigm still has "the heuristic potential of an antidogmatic, antihierarchicaland open and plural conception of knowledge" (Meschini, 2018: 9). As theItalian academic Antonello shows, even assuming an attitude of skepticism,disenchantment and irony that rejects the Truth, one can still have a position of civil andpolitical commitment if the forms of civil and political intervention are reformulated in"post-ideological" or "post-hegemonic" terms, recognizing reflective and micropoliticalforms of commitment that may be close to more traditional forms characterized bydistinctive ideological connotations...
Description
Tesis inédita de la Universidad Complutense de Madrid, Facultad de Filología, leída el 15-11-2019. Tesis retirada por expreso deseo de la autora.
Collections