Publication:
Análisis de diversas técnicas de reducción de ansiedad prequirúrgica en el niño y tutores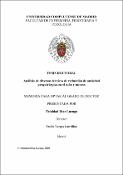 Files
Authors
Advisors (or tutors)
Editors
Publisher
Universidad Complutense de Madrid
Abstract
ntroducción.- El paso por quirófano para ser sometido a una intervención quirúrgica supone para los niños (así como para sus padres) un estrés cuyo indicador psicológico más evidente es la ansiedad. Objetivo.- Analizar si diferentes intervenciones diseñadas para aportar información sobre el proceso al que será sometido el niño, aplicadas a niños y padres, producen una disminución de las ansiedad-estado en ambos, y qué variables pueden afectar en los resultados. Métodos.- Estudio analítico experimental aleatorizado doble ciego que sigue las pautas de un ensayo clínico con un grupo de control (GC) y tres grupos experimentales (GI). Tras la consulta de preanestesia a los niños y padres de los GIse les encomendó bien la lectura de un cuento, el visionado de un video con información adicional de enfermería, o bien ambas actividades. En la antesala de quirófano y previo a la intervención quirúrgica se midió la Ansiedad-Estado, A-E(variable dependiente) y Ansiedad-Rasgo, A-R, tanto de los niños como de los padres mediante los cuestionarios STAIC y STAI respectivamente. La toma de datos, incluyendo diversas variables demográficas, se realizó durante 12 meses comenzando en octubre de 2016...
Introduction.- Going through the operating room to undergo surgery is for children (as well as their parents) a stressful emotional situation for which its most obvious psychological indicator is anxiety. Objective.- To analyse whether different interventions designed to provide information about the process to which the child will be subjected, applied to children and parents, produce a decrease in State Anxiety in both parties. Anywise as well what variables can affect these results. Methods.- Analytic experimental double-blind randomized controlled clinical trial with a control group (CG) and three experimental groups (EG). After the preanaesthesia consultation, children and parents of the EG were provided with a talebook, a video with additional information of nursing, or both activities. In the antechamber of the operating room and prior to the surgical intervention, the StateAnxiety, S-A (dependent variable) and Trait Anxiety, T-A, of both the children and the parents were measured using the STAIC and STAI questionnaires, respectively.The data collection, including different demographic variables, was carried out for 12 months starting in October 2016...
Description
Tesis inédita de la Universidad Complutense de Madrid, Facultad de Enfermería, Fisioterapia y Podología, leída el 20-07-2020
Collections