Publication:
Las novelas extensas y el canon en el ámbito contemporáneo español (1973-2014)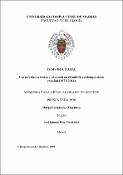 Files
Authors
Advisors (or tutors)
Editors
Publisher
Universidad Complutense de Madrid
Abstract
La presente investigación está centrada en el estudio de las novelas extensas y su recepción por parte del canon. El proyecto surge de la necesidad teórica de examinar un aspecto clave de la narrativa que, sin embargo, no dispone de la suficiente bibliografía concreta que permita valorar este elemento crucial del género literario más canonizado en la actualidad. No existe lamentablemente ningún manual teórico que haya analizado con detalle y de forma específica la longitud de las novelas y por ello el objetivo planteado en este estudio es responder a los interrogantes que genera la extensión fijándonos en el periodo 1973-2014 en el ámbito contemporáneo español. La extensión se trata de un atributo muy importante del canon literario porque ha tenido una enorme influencia en él. Se ha buscado realizar un acercamiento analítico a las novelas extensas para poder examinar el canon desde lo que implica la longitud de las principales obras clásicas y su vinculación con el sector editorial. A nivel metodológico, esta Tesis Doctoral analiza aquellos factores y propiedades que establecen la selección y permanencia de las novelas en el canon. Para abordar el planteamiento de por qué motivo las novelas que por su tamaño han alcanzado la categoría de clásicos y se han convertido en hitos novelescos, haciendo que sus autores sean los más conocidos exponentes de la excelencia narrativa, hemos determinado las principales tendencias históricas que han desembocado en tradiciones aún vigentes hoy en día. En concreto nos referimos al Quijote de Cervantes, a las novelas decimonónicas del siglo XIX publicadas originalmente por entregas y a las novelas más renovadoras de comienzos del siglo XX. De esta manera, se ha logrado una perspectiva histórica de este componente canónico…
The present study analyses long novels and their critical reception. Narrative is currently the most highly regarded literary genre, and yet there is a paucity of literature —and no theoretical text— that specifically analyses one of its key elements: length. Consequently, the aim of the present study was to explore the questions raised byl ength, focusing on the period 1973-2014 in contemporary Spain. Length is a very important attribute of fictional narrative because it has exerted an enormous influence on the literary canon. Here, an analysis is conducted of long novels in order to examine the canon from the standpoint of the implications of the length of the major classics and the association with the publishing world. At a methodological level, this doctoral thesis analyses the factors and properties that govern the selection and persistence of novels in the canon. To address the question of why long novels have become fictional narrative milestones and classics, rendering theirauthors the best-known exponents of narrative excellence, I have determined the main historical trends that gave rise to traditions that still prevail today. I refer in particular here to Cervantes' Quixote, the 19th century novels originally published in instalments and the most progressive of novels of the early 20th century. This approach has yielded a historical perspective on this element of the literary canon.
Description
Tesis inédita de la Universidad Complutense de Madrid, Facultad de Filología, leída el 04-09-2020
Collections