Publication:
Efectos neurotóxicos del amitraz sobre la transmisión gabaérgica y monoaminérgica en el sistema nervioso central de rata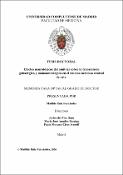 Files
Authors
Advisors (or tutors)
Editors
Publisher
Universidad Complutense de Madrid
Abstract
El amitraz [N-metilbis (2,4-xililiminometil) amina] (Figura 1) es un plaguicida formamidínico que se utiliza en todo el mundo como insecticida y acaricida, tanto en animales como en cultivos, para controlar plagas. El amitraz supone un motivo de preocupación para las autoridades sanitarias debido al elevado número de casos de intoxicación humana que se han atribuido a este plaguicida y que siguen siendo descritas actualmente. El amitraz es un potente neurotóxico que induce signos como convulsiones, pérdida del reflejo de enderezamiento, incoordinación motora, alteración del apetito, hiperreactividad a estímulos externos y agresividad, entre otros efectos. Estos efectos pueden estar mediados por la alteración de distintos sistemas de neurotransmisores, entre otros mecanismos. Las convulsiones podrían ser inducidas a través de disfunciones de los neurotransmisores glutamato y GABA, principales reguladores de la transmisión excitatoria e inhibitoria, respectivamente. Además, se ha descrito que el amitraz es capaz de inducir convulsiones en el hipocampo de ratas macho, lo cual podría estar mediado a través de las propiedades agonistasα2 adrenérgicas de este compuesto. Otro mecanismo que podría estar implicado es la inhibición del receptor de histamina H1, que se ha relacionado con la inducción de convulsiones...
Amitraz [N-methylbis (2,4-xylyliminomethyl) amine] (Figure 1) is a formamidine pesticide that is used throughout the world as an insecticide and acaricide in both animals and crops to control pests. Amitraz is a cause of concern for health authorities due to the high number of cases of human poisoning that have been attributed to this pesticide and which continue to be described to date. Amitraz is a powerful neurotoxic agent that induces signs such as seizures, loss of righting reflex, motor in coordination, appetite alteration, hyperreactivity to external stimuli and aggression, among other effects. These effects can be mediated by the alteration of different neurotransmitter systems, among other mechanisms. Seizures could be induced through dysfunctions of the neurotransmitters glutamate and GABA, main regulators of excitatory and inhibitory transmission, respectively. In addition, it has been described that amitraz is capable of inducing seizures in the hippocampus of male rats, which could be mediated through the α2 adrenergic agonist properties of this compound. Another mechanism that could be involved is the inhibition of the histamine H1 receptor, which has been linked to the induction of seizures.
Description
Tesis inédita de la Universidad Complutense de Madrid, Facultad de Medicina, Departamento de Medicina Legal, Psiquiatría y Patología, leída el 20-07-2020
Collections