Publication:
An empirical analysis of the patterns of growth and convergence in the European Union since the introduction of the single currency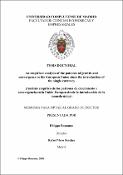 Files
Authors
Advisors (or tutors)
Editors
Publisher
Universidad Complutense de Madrid
Abstract
The Convergence process that had characterized the history of the European economic integration started to reverse since the early stages of the project of monetary unification. In particular the process of economic convergence shifted from Southern European countries and regions to Eastern Europe. Therefor e during the last two decades Eastern European countries and regions have been reducing the gap with the richer regions while the income and productivity gaps between the "Western" members of the EMU widened. This thesis has the general objective to empirically analyse and explain the evolution of the process of convergence in the European Union since the introduction of the single currency from different economic perspectives. Through the application of different econometrics techniques I will in dividuate three relevant economic "forces" that contributed to the emergence a bifurcated path of convergence in income per capita and labour productivity the European Union.The first "force" is directly linked to the adoption of the single currency that entailed too stringent fiscal rules for countries that opted to join the club. Some peripheral countries resulted particularly penalized by these fiscal rules that were also applied after 2008 in spite of the outbreak of the Global Financial crisis...
El proceso de convergencia que había caracterizado la historia de la integración económica europea comenzó a revertirse desde las primeras etapas del proyecto de unificación monetaria. En particular, el proceso de convergencia económica pasó de los países y regiones del sur de Europa a Europa del Este. Por lo tanto, durante las últimas dos décadas, los países y regiones de Europa del Este han estado reduciendo la brecha con las regiones más ricas, mientras que las brechas de ingresos y productividad entre los miembros "occidentales" de la UEM se ampliaron. Esta tesis tiene el objetivo general de analizar y explicar empíricamente la evolución del proceso de convergencia en la Unión Europea desde la introducción de la moneda única desde diferentes perspectivas económicas. Mediante la aplicación de diferentes técnicas de econometría, individualizaré tres "fuerzas" económicas relevantes que contribuyeron al surgimiento de un camino bifurcado de convergencia en el ingreso per cápita y la productividad laboral en la Unión Europea. La primera "fuerza" está directamente relacionada con la adopción de la moneda única que conllevaba reglas fiscales demasiado estrictas para los países que optaron por unirse al club. Algunos países periféricos resultaron particularmente penalizados por estas normas fiscales que también se aplicaron después de 2008 a pesar del brote de la Crisis Financiera Global...
Description
Tesis inédita de la Universidad Complutense de Madrid, Facultad de Ciencias Económicas y Empresariales, leída el 23-11-2020
Collections