Publication:
El arte digital como agente trasformador en los procesos de creación: estudio de caso en la obra del artista español Daniel Canogar y la aplicación de sus metodologías en los procesos de investigación - creación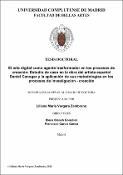 Files
Authors
Advisors (or tutors)
Editors
Publisher
Universidad Complutense de Madrid
Abstract
El artista contemporáneo se ha ido convirtiendo en la última década en un explorador de nuevas tecnologías, utilizando en sus proyectos los recursos digitales como medio de comunicación y de representación, cuyos intereses están definidos por el uso y la problemática de la imagen digital, la cual aparece enmarcada en un sistema de nuevas tecnologías, en la que el ordenador, el video beam, la energía eléctrica (la luz), la fotografía, el internet y sistemas de programación son los instrumentos idóneos de crear un impacto histórico, estético y tecnológico capaces de cambiar la relación entre el espectador y la obra. Esta relación se da gracias a la intervención del artista y de los medios de consumo masivo, tanto en las obras; como en el manejo intrínseco de los medios de comunicación visual para evaluar las aportaciones y efectos de estos artistas (a través de sus obras), al arte digital. A vísperas del siglo XXI acontecimientos como la obra Alzado Vectorial, proyecto emblemático realizado por Rafael Lozano Hemmer en la Plaza del Zócalo de la ciudad de México y encargado por el gobierno mexicano al artista, le dan la bienvenida a una nueva era, donde lo tecnológico se manifiesta como un símbolo de poder; y la interacción de la obra con el espectador, como la esperanza de ser partícipes del sistema. Esta propuesta es el punto de partida y de tensión que me genera gran interés. A su vez Daniel Canogar, artista español, con la obra Clandestinos, expuesta en la Puerta de Alcalá en Madrid, España, cuestiona a través de los símbolos históricos la relación del individuo y la sociedad. En el proceso metodológico, se plantea al inicio de la investigación con un modelo comparativo entre determinados proyectos de Rafael Lozano Hemmer y Daniel Canogar, ambos establecen nuevas formas de crear a partir de las nuevas tecnologías en función de lo digital, suscitan reflexiones en torno a la imagen y como esta ha sufrido una serie de cambios tecnológicos en los últimos tiempos; afectando nuestro modo de ver el mundo, el cual se ha convertido en un espacio donde lo virtual e intangible de la imagen, proponen tanto para el artista como para el espectador, nuevas formas de crear y de comunicarse. Posteriormente centraremos la presente investigación en el estudio de la obra del artista español, Daniel Canogar, quien establece relaciones con la tecnología, el espectador y el contexto en función de la proyección de una imagen digital que indaga sobre las múltiples aplicaciones de las herramientas tecnológicas; además, de percatarse de las múltiples relaciones del espectador con la obra y el espacio donde se presenta...
In the last decade, the contemporary artist has become an explorer of new technologies, using digital resources in his projects as a means of communication and representation, whose interests are defined by the use and problems of the digital image, which appears framed in a system of new technologies, in which the computer, video beam, electric energy (light), photography, the Internet and programming systems are the ideal instruments to create a historical, aesthetic and technological impact capable of changing the relationship between the viewer and the work. This relationship is given thanks to the intervention of the artist and the mass consumption media, both in the works; and in the intrinsic handling of the visual media to evaluate the contributions and effects of these artists (through their works), to digital art. On the eve of the 21st century events such as the work Vectorial Elevation, an emblematic project carried out by Rafael Lozano Hemmer in Mexico City's Zócalo Square and commissioned by the Mexican government to the artist, welcome him to a new era, where technology is manifested as a symbol of power; and the interaction of the work with the spectator, as the hope of being part of the system. This proposal is the starting point and the tension that generates great interest in me. In turn Daniel Canogar, a Spanish artist, with the work Clandestinos, exhibited at the Puerta de Alcalá in Madrid, Spain, questions through historical symbols the relationship between the individual and society. In the methodological process, it is proposed at the beginning of the research with a comparative model between certain projects of Rafael Lozano Hemmer and Daniel Canogar, both establish new ways of creating from the new technologies in terms of digital, raise reflections about the image and how this has suffered a series of technological changes in recent times, affecting our way of seeing the world, which has become a space where the virtual and intangible image, propose both for the artist and for the viewer, new ways of creating and communicating. Later, we will focus this research on the study of the work of the Spanish artist, Daniel Canogar, who establishes relationships with technology, the viewer and the context based on the projection of a digital image that investigates the multiple applications of technological tools; as well as realizing the multiple relationships of the viewer with the work and the space where it is presented...
Description
Tesis inédita de la Universidad Complutense de Madrid, Facultad de Bellas Artes, leída el 25/01/2021
Collections