Publication:
The use of geographic information systems in creating tools to improve nuclear emergency and response plans and as ab aid in the decision-making process for agricultural areas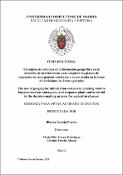 Files
Authors
Advisors (or tutors)
Editors
Publisher
Universidad Complutense de Madrid
Abstract
In the frame of the Radiation Protection (RP), Emergency Preparedness and Response (EPR) plans are fundamental in the effective management of an emergency situation related to the accidental release of radionuclides in a nuclear accident. These plans should be established in advance considering, as far as possible, the specificities of the potentially affected areas, which redounds in the success of the decision-making process for their application towards the recovery of the former living conditions. In order to mitigate the harmful damages to the population derived from the entrance of the radionuclides released in the food chain through the ingestion exposure pathway, EPR plans must contemplate the implementation of recovery strategies in the agricultural areas, facing the long-term...
En el marco de la Protección Radiológica (PR), los planes de Preparación y Respuesta en Emergencias (PRE) son fundamentales para la gestión eficaz de una emergencia relacionada con la liberación accidental de radionucleidos en un accidente nuclear. Estos planes deben estar definidos con antelación y deben considerar, en la medida de lo posible, las particularidades de las áreas potencialmente afectadas, lo cual redunda en el éxito del proceso de toma de decisiones para su aplicación en la recuperación de las anteriores condiciones de vida. Para mitigar los daños a la población por la exposición a través de la ingestión, derivados de la entrada en la cadena alimentaria de los radionucleidos liberados, los planes de PRE deben contemplar la implementación de estrategias de recuperación en las áreas agrícolas, de cara al largo plazo...
Description
Tesis inédita de la Universidad Complutense de Madrid, Facultad de Geografía e Historia, Departamento de Geografía, leída el 19-11-2020
Collections