Publication:
El imaginario gráfico desechable en la "zona republicana" durante la Guerra Civil española (1936-1939)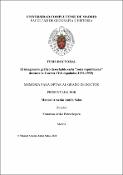 Files
Authors
Advisors (or tutors)
Editors
Publisher
Universidad Complutense de Madrid
Abstract
En esta investigación pretendemos demostrar que las representaciones gráficas encontradas en las publicaciones periódicas de la "zona republicana" durante la guerra civil española llegan a constituir un imaginario. Es decir, un conjunto de imágenes socialmente compartido y construido como un relato cuya lectura revela una elaboración fuertemente ideologizada basada en unos arquetipos que se van repitiendo a lo largo de los casi tres años que dura la guerra (1936-1939): principalmente el del héroe bélico y revolucionario, que encarna la colectividad combatiente y trabajadora; y el del enemigo, antagonista ideológico y de clase que ha impuesto la guerra y contra el que se erige la revolución. Sobre estos dos vectores principales, de los que surgen otras tipologías relacionadas que también analizaremos, se depositan las nociones y los constructos de los grupos sociales que hacen la revolución y combaten la guerra, organizados por unas ideologías antagónicas que llegan a 1936 siguiendo sus propias trayectorias y tradiciones, con distintos historiales de actuación y cosmovision esespecificas. Veremos cómo el esquema arquetípico desarrolla una interpretación de su experiencia en el terreno de la representación visual, plasmando en las imágenes lo que dichos grupos sociales entienden como sus realizaciones.
Through this research we intend to prove that the graphic representations which can be found in the periodical publications of the "republican zone" during the Spanish civilwar, constitute an imagery. That is to say a socially shared ensemble of images built as a narrative, whose lecture reveals a strongly ideological manufacture based on archetypes which are repeated during the almost three years period of the war (1936-1939): mainly those of the hero of war and revolution, as an embodiment of the community, and the enemy, ideological and class antagonist who has imposed the warand against whom the revolution is raised. On these two main vectors, from which other related typologies arise that will be examined as well, are settled notions and constructs of the social groups which made the revolution and fought the war, groups organized by antagonistic ideologies that reach 1936 following their own trajectories and traditions,different performance histories and specific worldviews. We will observe how this archetypical diagram develops on the visual representation field an interpretation of the civil war experience, capturing in the images all that those aforesaid groups understand as their accomplishments...
Description
Tesis inédita de la Universidad Complutense de Madrid, Facultad de Geografía e Historia, leída el 20-01-2021
Collections