Publication:
Efectividad comparativa de la antisepsia pre-quirúrgica con propanol-1 al 60% por frotado y cepillado siguiendo la normativa europea UNE-EN12791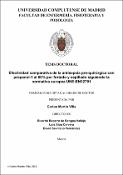 Files
Authors
Advisors (or tutors)
Editors
Publisher
Universidad Complutense de Madrid
Abstract
Actualmente, se producen innumerables situaciones en las que el contacto que tienen las manos de los sanitarios con los enfermos acaba provocando de manera directa o indirecta una infección. En consecuencia, estas infecciones, provocan un ingreso hospitalario de mayor duración, una subida del coste para los sistemas de salud, agravamiento de la salud de los pacientes y en los peores casos la pérdida de vidas. Estas infecciones se producen por factores relacionados con la atención sanitaria, pero también están íntimamente relacionadas con factores económicos, geográficos, culturales además de las creencias de las distintas sociedades. A pesar de ello, gran parte de las infecciones se pueden evitar. Una de las soluciones más sencillas es la correcta higiene de las manos. Aún así, muchos de los profesionales sanitarios, omiten o realizan incorrectamente este acto. Un acto que reduciría drásticamente el número de infecciones en todo el planeta. Según las investigaciones sobre el incumplimiento de esta sencilla medida, se ha observado que se necesitan nuevos proyectos para promocionar, con cienciar y educar a los profesionales sanitarios en esta materia. Por ello nace: el Primer Desafío Global de la Seguridad del Paciente de la Organización Mundial de la Salud (OMS), "Una Atención Limpia es una Atención más segura", cuyo fin último es mejorar los procedimientos y protocolos de la atención sanitaria. La Nueva Guía Global sobre la Higiene de Manos en la Atención de la salud, se elaboró con las aportaciones de más de un centenar de expertos mundiales de gran relevancia. Se puso en práctica en diversas zonas del planeta; desde países desarrollados con hospitales equipados con la última tecnología como en países en vías de desarrollo con pequeños consultorios obsoletos. Finalmente, esta guía vio la luz en 2009...
Currently, there are innumerable situations in which the contact that the hands of the toilets have with the patients ends up causing an infection directly or indirectly. Consequently, these infections cause a longer hospital stay, an increase in the cost for health systems, worsening patients health and in the worst cases the loss of life. These infections are caused by factors related to health care, but they are also intimately related to economic, geographical, cultural factors in addition to the beliefs of different societies. Despite this, much of the infections can be avoided. One of the simplest solutions is the correct hand hygiene. Even so, many of the health professionals incorrectly omit or perform this act. An act that would drastically reduce the number of infections across the planet. According to investigations on the breach of this simple measure, it has been observed that new projects are needed to promote, raise awareness and educate health professionals in this area. Therefore, the First Global Patient Safety Challenge of the World Health Organization (WHO), "A Clean Care is a Safer Care", whose ultimate goal is to improve health care procedures and protocols. The New Global Guide on Hand Hygiène in Health Care was prepared with the contributions of more than a hundred world experts of great relevance. It was implemented in various areas of the planet; from developed countries with hospitals equipped with the latest technology as in developing countries with small obsolete offices. Finally, this guide saw the light in 2009...
Description
Tesis inédita de la Universidad Complutense de Madrid, Facultad de Enfermería, Fisioterapia y Podología, leída el 21/01/2021
Collections