Publication:
Cosmological and astrophysical signatures of alternative dark sector models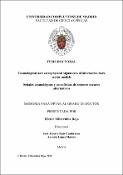 Files
Authors
Advisors (or tutors)
Editors
Publisher
Universidad Complutense de Madrid
Abstract
The main task of cosmology is to understand both the current state of the Universe and its past history. It aims to answer fundamental questions like how has the Universe evolved or what are its constituents. Even though cosmology has developed over the last century, the last two decades have witnessed a revolution. During the XX century, there were many competing cosmological models with very definite observational predictions. However, the observations were not good enough to test these predictions. During the last twenty years the situation has been reversed.The amount and quality of empirical data have increased to the point where cosmology has become an observationally driven science...
El principal objetivo de la cosmología es llegar a conocer la situación actual del Universo y su historia, tratando de desvelar cómo ha evolucionado y cuál es su composición. Aunque la cosmología moderna se ha venido desarrollando durante el último siglo, las últimas dos décadas han presenciado una auténtica revolución. Durante el siglo XX se propusieron diferentes modelos cosmológicos, con predicciones observacionales concretas, pero la precisión de las observaciones no era lo bastante alta para discriminar entre ellos. Sin embargo, la situación ha cambiado radicalmente en los últimos veinte años. La calidad y cantidad de datos empíricos ha aumentado drásticamente, hasta el punto en el que, hoy por hoy, las nuevas vías de investigación en cosmología se nutren de los últimos hallazgos observacionales...
Description
Tesis inédita de la Universidad Complutense de Madrid, Facultad de Ciencias Físicas, Departamento de Física Teórica, leída el 29-07-2020
Collections