Publication:
Las relaciones políticas internacionales de Catar con los miembros del Consejo de Cooperación para los Estados Árabes del Golfo en el contexto geopolítico de la región (1990-2017)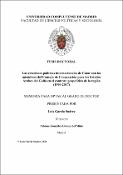 Files
Authors
Advisors (or tutors)
Editors
Publisher
Universidad Complutense de Madrid
Abstract
La situación sociopolítica en Oriente Medio viene siendo objeto de estudio y debate en la comunidad política internacional desde hace décadas. Por otro lado, el escenario geopolítico y socioeconómico en el que se desarrollan las relaciones internacionales entre los Estados situados en Oriente Medio es un tema cuya relevancia aumenta periódica y exponencialmente. Las sinergias producidas por el contexto regional, las divisiones religiosas, los desequilibrios económicos, la falta de libertad de expresión y, en muchos casos, la ausencia de derechos civiles, junto con el hastío de una población dominada desde hace décadas por castas gobernantes con comportamientos poco democráticos, así como, por otro lado, la inmensa riqueza e ingentes reservas de hidrocarburos situadas en gran parte de estos territorios, no hacen sino crear el contexto idóneo para que, periódicamente, se produzcan acontecimientos que adquieren relevancia por el impacto sociopolítico que producen a nivel regional y a nivel internacional...
The socio-political situation in the Middle East has been the subject of study and debate in the international political community for decades. On the other hand, the geopolitical and socio-economic scenario in which the international relations between the Middle Eastern States are played out is an issue the relevance of which increases periodically and exponentially. The synergies produced by the regional context, religious divisions, economic imbalances, the lack of freedom of speech and, in many cases, civil rights, together with the weariness of populations dominated for decades by ruling castes whose behaviour barely resembles any form of democracy, contrasted with the immense wealth and enormous reserves of hydrocarbons, the majority of which are located in these territories, have created an ideal context in which, periodically, events occur which become relevant because of their socio-political impact at both regional and international level. The Cooperation Council for the Arab States of the Gulf (or, to give it its internationally recognised English acronym, "GCC") operates within this ever-changing and completely fragmented complex regional scenario. The GCC is a supra-national political institution whose principal mission is to seek out synergies and to unite the Arab countries of the southern Gulf by attempting to homogenise their political approach to critical issues...
Description
Tesis inédita de la Universidad Complutense de Madrid, Facultad de Ciencias Políticas y Sociología, leída el 28-01-2021
Collections