Publication:
Circulación de cuidados, interseccionalidad y desarrollo en los procesos de retorno de Madrid a Ecuador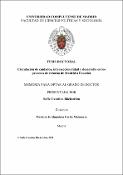 Files
Authors
Advisors (or tutors)
Editors
Publisher
Universidad Complutense de Madrid
Abstract
La presente tesis analiza los procesos de migración de retorno de mujeres ecuatorianas que emigraron a Madrid y sus motivos y experiencias de retorno y desarrollo. Para este fin, el análisis se ubica en la circulación de cuidados dentro de las familias transnacionales ecuatorianas, que viven y funcionan en el espacio social transnacional entre Ecuador (varias ciudades) y Madrid, y parte de relatos de vida de mujeres ecuatorianas retornadas y de sus familiares. Se demuestra que el género organiza la movilidad e inmovilidad y la evolución de los imaginarios y percepciones de retorno de las mujeres migrantes ecuatorianas, además de las experiencias de desarrollo post retorno. Así, las diferentes etapas del ciclo de vida crean diferentes necesidades de organización de los cuidados en las familias transnacionales, lo que hace que la configuración y la circulación de cuidados tengan un peso importante en los motivos de retorno y no retorno de las mujeres migrantes ecuatorianas...
This thesis analyzes the return migration processes of Ecuadorian women who emigrated to Madrid and their reasons and experiences of return and development. For this purpose, the analysis is located in the circulation of care within the Ecuadorian transnational families that live and function in the transnational social space between Ecuador (several cities) and Madrid. Through the analysis of life stories of returned Ecuadorian women and their family members, it is shown that gender relations organize mobility/immobility, define the evolution of imaginaries and perceptions of return of Ecuadorian migrant women, as well as influence post-return development experiences. Thus, the different stages of the life cycle create different needs for the organization of care in transnational families, which means that the configuration and circulation of care have an important weight in the reasons for return and non-return of Ecuadorian migrant women...
Description
Tesis inédita de la Universidad Complutense de Madrid, Facultad de Ciencias Políticas y Sociología, leída el 28-01-2021
Collections