Publication:
Factores clínicos y psicológicos asociados a las conductas autolíticas en el Trastorno Límite de Personalidad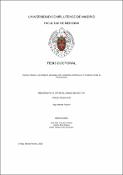 Files
Authors
Advisors (or tutors)
Editors
Publisher
Universidad Complutense de Madrid
Abstract
La conducta suicida es una variable de enorme importancia clínica y de difícil manejo en el Trastorno Límite de Personalidad (TLP). Entre el 60 y el 70% de los pacientes con TLP llevan a cabo intentos de suicidio, y por término medio realizan 3,3 intentos de suicidio a lo largo de su vida. Los rasgos patológicos de personalidad del TLP intervienen como factores de riesgo de conductas suicidas en confluencia con otras variables clínicas y sociodemográficas asociadas al TLP (como son algunos antecedentes personales, del tipo de abusos en la infancia, o antecedentes de intentos previos de suicidio), con otros diagnósticos psicopatológicos, y con variables biológicas, genéticas y ambientales. Asimismo, distintos autores señalan la importancia de los pacientes que han realizado autolesiones sin finalidad suicida (NSSI) como grupo que presenta alto riesgo de suicidio...
Suicidal behavior is a variable of enormous clinical importance and difficult to handle in Borderline Personality Disorder (BPD). Between 60 and 70% of patients with BPD carry out suicide attempts, and on average they make 3.3 suicide attempts throughout their lives. The pathological personality traits of BPD intervene as risk factors for suicidal behaviors in confluence with other clinical and sociodemographic variables associated with BPD (such assome personal history, the type of childhood abuse, or a history of previous suicide attempts), with other psychopathological diagnoses, and with biological, genetic and environmental variables. Likewise, different authors point out the importance of patients who have carried out Non Suicidal Self Injury (NSSI) as a group that presents a high risk of suicide...
Description
Tesis inédita de la Universidad Complutense de Madrid, Facultad de Medicina, Departamento de Psiquiatría, leída el 23/10/2020
Collections