Publication:
Entre la abnegación y la autonomía. Disposiciones de género en tensión en la experiencia de los vínculos amorosos heterosexuales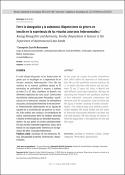 Advisors (or tutors)
Editors
Publisher
Federación Española de Sociología
Abstract
En este trabajo indagamos en las disposiciones de género que se despliegan en la experiencia de los vínculos amorosos heterosexuales. Para ello nos servimos de un material cualitativo basado en 31 entrevistas en profundidad a mujeres y hombres de entre 25 y 35 años, residentes en Madrid y con diferentes trayectorias de clase social. Comenzamos describiendo ciertas posiciones frecuentes y significativas en la interacción amorosa: la ambivalencia masculina y la búsqueda femenina de reconocimiento. Posteriormente profundizamos en las lógicas del aguante de la insatisfacción por parte de las mujeres. Este análisis nos conduce a la constatación de ciertas contradicciones entre los modelos amorosos e ideales de feminidad que se defienden discursivamente y los que ponen en práctica cotidianamente. Ello nos permite finalmente argumentar acerca de la tensión en las disposiciones femeninas en la experiencia del amor y la pareja heterosexual.
In this paper we analyze the gender dispositions that unfold within the experience of heterosexual love. We use the qualitative material produced by 31 in-depth interviews with women and men between 25 and 35 years old, living in Madrid and with different social class trajectories. We begin by describing two frequent and significant positions in love interaction: masculine ambivalence and feminine quest for recognition. Later we delve into the logics of women' tendency to endure dissatisfaction. This analysis leads us to identify a contradiction between the loving models and the ideals of femininity discursively defended and those put into daily practice. We then discuss the tension in feminine dispositions in the experience of love and the couple.
Collections