Publication:
Presentación del libro "Primera edición de la Segunda parte del ingenioso caballero don Quijote de la Mancha (Madrid, Juan de la Cuesta, 1615). El libro, el texto, la edición." Alcalá de Henares: Centro de Estudios Cervantinos, 2018.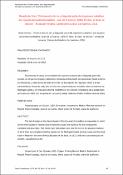 Authors
Advisors (or tutors)
Editors
Publisher
Biblioteca Histórica U.C.M.
Abstract
Se presenta el censo de ejemplares de la primera edición de la Segunda parte del Quijote, en el que se recogen y describen exhaustivamente todos los localizados hasta la fecha en bibliotecas y colecciones de todo el mundo. La descripción del "ejemplar ideal" y de las características físicas de cada uno de ellos se complementa con estudios sobre la imprenta de Madrigal-Cuesta y del mercado editorial madrileño en el contexto cronológico de la publicación de la obra en 1615, con la aportación de nuevos datos relativos al taller, inéditos hasta la fecha.
The list of copies of the Second part of Don Quixote's first edition is presented, in which all the ones located in libraries and collections around the world so far are exhaustively compiled and described. The "ideal copy" description and also the one of the physical features of all of them are complemented by studies on the Madrigal-Cuesta printing house and the book trade in Madrid in the time of the publication of the book, in 1615, with new data relating to the printers, unpublished so far.
Collections