Publication:
Site Selectivity in Pd-Catalyzed Reactions of α-Diazo-α-(methoxycarbonyl)acetamides: Effects of Catalysts and Substrate Substitution in the Synthesis of Oxindoles and β-Lactams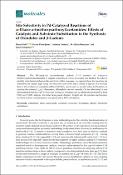 Advisors (or tutors)
Editors
Abstract
The Pd-catalyzed intramolecular carbene C–H insertion of α-diazo-α-(methoxycarbonyl)acetamides to prepare oxindoles as well as β-lactams was studied. In order to identify what factors influence the selectivity of the processes, we explored how the reactions are affected by the catalyst type, using two oxidation states of Pd and a variety of ligands. It was found that, in the synthesis of oxindoles, ((IMes)Pd(NQ))2 can be used as an alternative to Pd2(dba)3 to catalyze the carbene CArsp2–H insertion, although it was less versatile. On the other hand, it was demonstrated that the Csp3–H insertion leading to β-lactams can be effectively promoted by both Pd(0) and Pd(II) catalysts, the latter being most efficient. Insight into the reaction mechanisms involved in these transformations was provided by DFT calculations.
Collections