Publication:
La cobertura informativa de la Revolución Rusa en la prensa española de la época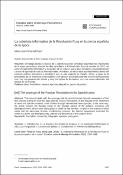 Authors
Advisors (or tutors)
Editors
Publisher
Universidad Complutense de Madrid
Abstract
El trabajo aborda un análisis de la cobertura que los periódicos españoles más importantes de la época presentaron durante los días inmediatos a la Revolución Rusa de octubre de 1917, así como el tratamiento informativo y de opinión de las noticias que se iban recibiendo, mayoritariamente a través de agencias de noticias internacionales. Asimismo, se sitúan estos acontecimientos dentro del contexto político, económico e ideológico que se está viviendo en España, donde, a pesar de la precariedad de los medios de comunicación y del carácter desestabilizador del proceso revolucionario ruso, hay una presentación directa y muy descriptiva de los hechos, con una escasa valoración del alcance de los mismos.
This research deals with the coverage that the most important Spanish newspapers of that time showed during the first few days after the Russian Revolution. It also focuses on the treatement of news and opinions received, most of them through international news agencies. In the same way, the article presents the Russian events in the Spanish context of the political, economic and ideological events which were taking place in Spain at that moment. In spite of the scarcity of mass media and the subversive Russian revolutionary processs, the Spanish newspapers presented the events in a direct and descriptive way, without any assessment of the scope of them.
Collections