Publication:
Una propuesta concreta de reforma constitucional: la constitucionalización del sistema de juntas electorales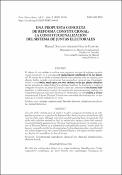 Advisors (or tutors)
Editors
Abstract
El objeto de este trabajo es realizar una propuesta concreta de reforma constitu­cional consistente en la consagración independiente establecida en la Ley Electo­ral. El sistema ha revelado su eficacia durante estos cuarenta años de vigencia, pero algunos hechos surgidos recientemente han suscitado el riesgo de que el legislador, estatal o autonómico, pueda optar por otras opciones en las que queden cuestionadas las de imparcialidad y neutralidad políticas. La propuesta se centra en configurar el sistema de Juntas Electorales como una administración electoral inde­pendiente y políticamente neutral, de composición mayoritariamente judicial, con competencia general para todos los procesos electorales y de referéndum, y el reco­nocimiento de la Junta Electoral Central como autoridad electoral superior, sin per­juicio de la revisión judicial de sus actos.
The aim of the current piece of work is to offer a proposal consisting of an inde­pendent existence as penned in the Electoral Act. Such system has proved to be effi­cient for forty years, although some facts recently occurred have increased the risk of the ruler, whether national or local, to opt for other options where both neutrali­ty and impartiality guarantees are observed. Such proposal focuses on creating a sys­tem of Electoral Boards as if independent and politically neutral, mostly made by lawyers, generally entitled to all electoral and referendum procedures together with the acknowledgment of the Central Electoral Board as the higher electoral author­ity, despite the surveillance by law of its acts.
Das Ziel der vorliegenden Arbeit ist es, einen konkreten Vorschlag einer Verfas­sungsreform vorzutragen, die darin besteht, eine unabhängige Absegnung der Wahlkommissionen im Wahlrecht zu verankern. Das bisherige System hat in den letzten vierzig Jahren seines Bestehens seine Effizienz unter Beweis gestellt. Jedoch haben einige kürzlich eingetretene Ereignisse das Risiko zu Tage treten lassen, dass der Gesetzgeber, staatlicherseits oder seitens der Autonomen Region andere Optio­nen wählen kann, unter denen die Garantien der Unabhängigkeit und politischen Neutralität fraglich werden können. Der Vorschlag zielt darauf ab, das System der Wahlkommissionen als einer unabhängigen und politisch neutralen Verwal­tung so zu gestalten, mehrheitlich richterlich besetzt, dass es mit einer allgemeinen Kompetenz für alle Wahlprozesse und Referenda ausgestattet wird. Zusätzlich soll dem Zentralen Wahlamt die höchste Wahlausschussautorität zugestanden werden, unabhängig davon, dass seine Handlungen gerichtlich überprüft werden können.
Collections