Publication:
Emprendimiento indígena, ¿Una dimensión económica del Sumak Kawsay?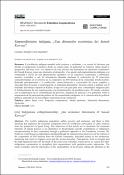 Authors
Advisors (or tutors)
Editors
Publisher
Facultad de Ciencias Económicas y Empresariales. Escuela de Estudios Cooperativos
Abstract
La población indígena mundial sufre pobreza y exclusión, y es escasa la literatura que aborda el componente económico desde su cosmovisión; en particular en América Latina desde la perspectiva del buen vivir. Los objetivos de este artículo son determinar los elementos económicos del Sumak Kawsay como una alternativa al desarrollo, y los aportes del emprendimiento indígena a su comunidad a través de una aproximación cualitativa en la Amazonía Ecuatoriana. Construimos nuestros resultados a raíz de información obtenida mediante la realización de 22 entrevistas semiestructuradas en el contexto de la cooperativa de 850 familias de la comunidad kiwcha Kallari, dedicada principalmente a la producción, comercialización y exportación de cacao orgánico y chocolate fino de aroma. La participación, la soberanía alimentaria y la lucha contra la pobreza son el resultado del trabajo conjunto de Kallari, lo que sirve de guía para otras comunidades indígenas para el fortalecimiento de sus organizaciones con planteamientos de periferia-centro. El estudio concluye con la importancia de la sostenibilidad del proyecto, llamando la atención a los gobiernos sobre la importancia de la participación política de las comunidades indígenas en la construcción de políticas públicas centradas en las necesidades específicas de sus territorios.
The world's indigenous population suffers poverty and exclusion, and there is little literature that addresses the economic component from its worldview; particularly in Latin America from the perspective of good living. The objectives of this article are to determine the economic elements of Sumak Kawsay as an alternative to development, and the contributions of indigenous entrepreneurship to their community through a qualitative approach in the Ecuadorian Amazon. We build our results based on information obtained through 22 semistructured interviews in the context of the cooperative of 850 families from the Kallari community, dedicated mainly to the production, marketing and export of organic cocoa and fine aroma chocolate. Participation, food sovereignty and the fight against poverty are the result of the joint work of Kallari, which serves as a guide for other indigenous communities to strengthen their organizations with periphery-center approaches. The study concludes with the importance of the sustainability of the project, calling the attention to the governments on the importance of the political participation of the indigenous communities in the construction of public policies focused on the specific needs of their territories.
Citation
Arteaga-Cruz, E. L. (2017) Buen Vivir (Sumak Kawsay): definiciones, crítica e implicaciones en la planificación del desarrollo en Ecuador. Saúde Em Debate, Nº 41, Vol. 114, pp. 907-919. https://doi.org/10.1590/0103-1104201711419. Asamblea Constituyente. (2008) Ley Orgánica del Sistema Nacional de Contratación Pública, 1-41. Asamblea Constituyente de Bolivia. Constitución Política del Estado de la República Plurinacional de Bolivia (2008) Bolivia. Retrieved from http://www.justicia.gob.bo/index.php/normas/doc_download/35-nueva-constitucionpolitica-delestado%5Cnhttp://www.sissub.com/SiaWebadm/coorporativa/files_inf/nueva_constitucion_politica_del_estado_bolivia.pdf. Asamblea Nacional Ecuador. Constitución de la República del Ecuador (2008). Ecuador. Asamblea Nacional Ecuador. Ley Orgánica de la Economía Popular y Solidaria y del Sector Financiero Popular y Solidario (2011). Ecuador. Biernacki, P. & Waldorf, D. (1981) Snowball Sampling: Problems and techniques of Chain Referral Sampling. SAGE Publications. Borja Nuñez, R. (2011) Los Movimientos Sociales en los años 80 y 90: la incidencia de las ONG, la Iglesia y la Izquierda. Quito, Ecuador: Centro de Investigaciones CIUDAD. Chancoso, B. (2010) El Sumak Kawsay desde la visión de la mujer. In Sumak Kawsay Yuyay - Antología del Pensamiento Indigenista Ecuatoriano sobre Sumak Kawsay, pp. 223–227. Choquencagua, D. (2011) Bolivia: hacia la reconstrucción del Vivir Bien. Bolivia: Hacía La Reconstrucción Del Vivir Bien. Vivir Bien y NO Mejor. Retrieved from http://www.servindi.org/actualidad/41823. Chuji, M. (2010) Altermundos. El sumak kawsay: una opción de vida. Retrieved August 31, 2016, from http://miradoriu.org/spip.php?article168. Coque, J. (2007) Un marco para la promoción de cooperativas en el contexto de planes de desarrollo territorial de regiones desfavorecidas. REVESCO. Revista de Estudios Cooperativos, Segundo Cuatrimestre, Nº 92, pp. 107–131. Coraggio, J. L. (2011) Economía Social - El trabajo antes que el capital. Quito, Ecuador: ABYA-YALA. Coral-Guerrero, C. A., Chavez, M., Martínez, I. y Ledesma, G. (2016) Kallari, emprendimiento indígena en Ecuador. In El papel del contexto en la acciòn emprendedora, pp. 284–306. Granada: Ediciones K&L. Creswell, J. W., Sobczak, A. J., & Lee, M. (2003) Research Desing. Thousand Oaks. Departamento de Información Pública de las Naciones Unidas. (2010) La situación de los pueblos indígenas del mundo, 20. Escobar, A. (2010) Latin America at a Crossroads. Cultural Studies, Nº 24, Vol. 1, pp. 1-65. https://doi.org/10.1080/09502380903424208. GAD Napo (2017) Ordenanza Chakra Kiwcha. Tena, Napo: Gobierno Autónomo Descentralizado del Napo. Giovannini, M. (2014) Indigenous community enterprises in Chiapas : a vehicle for buen vivir ?, Nº 50, Vol. 1, pp. 71–87. https://doi.org/10.1093/cdj/bsu019. Giovannini, M. (2016) Alternatives to Development: The Contribution of Indigenous Community Enterprises in Chiapas. Journal of International Development, Nº 28, Vol. 7, pp. 1138–1154. https://doi.org/10.1002/jid.3141. Giovannini, M. y Monroy, M. (2016) Empresas comunitarias para la solidaridad , la educación y el Buen Vivir : un estudio de caso en México, Nº 10, Vol. 19, pp. 185–197. https://doi.org/10.4013/otra.2016.1019.05. Guardiola, J. y García-Quero, F. (2014) Buen Vivir (living well) in Ecuador: Community and environmental satisfaction without household material prosperity? Ecological Economics, Nº 107, pp. 177–184. https://doi.org/10.1016/j.ecolecon.2014.07.032. Gudynas, E. (2014) El postdesarrollo como crítica y el buen vivir como alternativa. In G. C. Delgado Ramos (Ed.), Buena Vida, Buen Vivir: Imaginarios alternativos para el bien común de la humanidad (pp. 61–95). Ciudad de México: Universidad Nacional Autónoma de México. Gudynas, E. y Acosta, A. (2011) El buen vivir mas allá del desarrollo. Quehacer -Desco, Nº 181, pp. 70–81. Retrieved from http://www.dhl.hegoa.ehu.es/recursos/928%5Cnhttp://www.desco.org.pe/node/6808. Hidalgo-Capitán, A., & Cubillo-Guevara, A. P. (2014) Six Open Debates on Sumak Kawsay. Íconos. Revista de Ciencias Sociales, Nº 48 (Enero), pp. 25–40. Hidalgo-Capitán, A., Guillen-Garcia, A. y Deleg-Guazha, N. (2014) Antología del Pensamiento Indigenista Ecuatoriano sobre Sumak Kawsay. (A. Hidalgo-Capitán, A. Guillén, y N. Deleg, Eds.). Huelva y Cuenca: Universidad de Huelva. Huanacuni-Mamani, F. (2010) Paradigma Occidental y Paradigma Indígena Originario. América Latina En Movimiento, Nº 452, pp. 17–22. Retrieved from http://www.plataformabuenvivir.com/wpcontent/uploads/2012/07/HuanacuniParadigmaOccidentalIndigena2010.pdf. INEC. (2010) Censo de Población y Vivienda 2010. Quito. Retrieved from http://www.ecuadorencifras.gob.ec. Jackson, J. E., & Warren, K. B. (2005) Indigenous movements in Latin America, 1992–2004: Controversies, Ironies, New Directions. Annual Review of Anthropology, Nº 34, Vol. 1, pp. 549–573. https://doi.org/10.1146/annurev.anthro.34.081804.120529. Kallari (2018) Kallari. Retrieved March 21, 2018, from https://www.kallari.com.ec/kallari/quienes-somos. Lajo, J. (2002) Qhápaq kuna ...mas alla de la civilización, pp. 2–27. López-Guzman, T. y Sánchez, S. (2009) Turismo comunitario y generación de riqueza en países en vías de desarrollo. Un estudio de caso en El Salvador. REVESCO. Revista de Estudios Cooperativos, Tercer Cuatrimestre, Nº 99, pp. 85–103. Macas, L. (2010a) El Sumak Kawsay. Yachaykuna, Nº 13, pp. 13–39. Macas, L. (2010b) Sumak Kawsay: La vida en Plenitud. América Látina En Movimiento, Nº 452, pp. 14–16. Medina, J. (2001) La Buena Vida occidental y la Vida Dulce amerindia. In Suma Qamaña: La Comprensión Indígena de la Vida Buena (1st ed., pp. 31–36). La Paz: PADEP/GTZ. Ministerio de Educación Ecuador (2009) KICHWA: Yachakukkunapa Shimiyuk Kamu. Retrieved from http://www.illa-a.org/cd/diccionarios/diccionarioKichwaEcuador.pdf. Pacari, N. (2013) Sumak Kawsay para que tengamos vida. In Antonio Luis HidalgoCapitán -Alejandro Guillén García -Nancy Deleg Guazha. (Ed.), Sumak Kawsay Yuyay - Antología del Pensamiento Indigenista Ecuatoriano sobre Sumak Kawsay (pp. 345–355). Huelva y Cuenca: Universidad de Huelva. Padilla-Meléndez, A. y Ciruela-Lorenzo, A. M. (2018) Female indigenous entrepreneurs, culture, and social capital. The case of the Quechua community of Tiquipaya (Bolivia). Women's Studies International Forum, Nº 69 (June 2017), pp. 159–170. https://doi.org/10.1016/j.wsif.2018.05.012. Peredo, A. M. y Chrisman, J. J. (2006) Toward a theory of community-based enterprise. Academy of Management Review, Nº 31, Vol. 2, pp. 309–328. https://doi.org/10.5465/AMR.2006.20208683. Pitre-Redondo, R., Cardona-Arbeláez, D. y Hernández-Palma, H. (2017) Proyección del emprendimiento indígena como mecanismo de competitividad en el postconflicto colombiano. Revista De Investigación, Desarrollo E Innovación, Nº 7, Vol. 2, pp. 231–240. https://doi.org/10.19053/20278306.v7.n2.2017.6068. Provincia de Napo (2010) Plan de Desarrollo y ordenamiento Territorial Provincia de Napo. Tena, Napo. Quirola, D. (2009) Sumak Kawsay. Hacia un nuevo pacto social en armonía con la naturaleza. In A. Acosta & E. Martínez (Eds.), El Buen Vivir: Una vía para el desarrollo (pp. 103–114). Quito, Ecuador: Abya Yala. Reyes, M., Ortega, Á. y Machado, E. (2017) Modelo para la gestión integrada del turismo comunitario en Ecuador, caso de estudio Pastaza. REVESCO. Revista de Estudios Cooperativos, Primer Cuatrimestre, Nº 123, pp. 250–275. https://dx.doi.org/10.5209/REVE.53242. Santopietro, J. (2008) When Chocolate Is a Way of Life. The New York Times, p. D1. Retrieved from https://www.nytimes.com/2008/11/05/dining/05choc.html?module=RelatedArticleList&slideshowTitle=MakingTheirOwnWay&currentSlide=1&entrySlide=1&action=click&version=EndSlate&contentCollection=Food&region=SlideShowTopBar&pgtype=imageslideshow. SENPLADES (2009) Plan Nacional para el Buen Vivir 2009-2013: Construyendo un estado Plurinacional e Intercultural. Quito, Ecuador. SENPLADES (2013) Plan Nacional para el Buen vivir 2013-2017. Quito, Ecuador. SEPS (2017) Superintendencia de Economía Popular y Solidaria - SEPS - SEPS. Retrieved September 28, 2017, from http://www.seps.gob.ec/. Tapia, L. (2004) Territorio, territorialidad y construcción regional amazónica. Quito, Ecuador: ABYA-YALA. Taxo, A. (1999) La concepción runa de la economía. In V. Serrano (Ed.), Economía de solidaridad y cosmovisión indígena (pp. 155–166). Quito: Centro Ecuatoriano para el Desarrollo de la Comunidad - Abya Yala. Thornberry, P. (2002) Indigenous Peoples and Human Rights. Manchester, U.K.: Manchester University. UNICEF (2014) Los pueblos indígenas en América Latina Los pueblos indígenas en América Latina, Nº 4, pp. 38–40. Van Coot, D. L. (2000) The Friendly Liquidation Of The Past: The Politics Of Diversity in Latin America. Pitssburgh: University of Pittsburgh. Viteri, C. (2003) Súmak Kaúsai. Una respuesta viable al desarrollo. Universidad Politécnica Salesiana. Yin, R. (2009) Case study research:Design and methods. London: SAGE Publications.
Collections