Publication:
¿Qué es el lenguaje?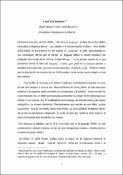 Authors
Advisors (or tutors)
Editors
Publisher
Asociación Amigos de la Revista de Libros
Abstract
Este artículo examina el libro de Tom Wolfe " El Reino del Lenguaje", en el que el autor critica duramente las tesis de Chomsky sobre el lenguaje. La idea de que el lenguaje es un sistema biológico se enfrenta con dificultades insuperables porque la selección natural ni la selección sexual pueden explicar su origen. Chomsky afirma que esto hace que el lenguaje sea un misterio. Wolfe propone que el lenguaje forma un cuarto reino, que es la cultura humana. Esta idea está apoyada por dos sorprendentes propiedades del lenguaje: la mentira y el desplazamiento. Contra la idea de que el lenguaje es gratis, el principio del hándicap sugiere que el lenguaje tiene un alto coste moral. Este coste está causado por la emisión de locuciones verdaderas.
This article reviews Tom Wolfe's book The Kingdom of Language. Wolfe severely criticizes Chomsky's thesis on language in this book. The idea that language is a biological system is challenged by insurmountable hurdles because neither natural selection nor sexual selection can explain its origins. Chomsky claims that these hurdles make language a mystery. Wolfe proposes that language makes up a fourth kingdom: the kingdom of human culture. This idea is supported by two surprising design properties of language: lying and displacement. Contrary to the idea that "talk is cheap", the handicap principle suggests that langue is morally costly. This cost is assigned to the uttering of true sentences in linguistic communication.
Collections