Publication:
An experiment-oriented analysis of 2D spin-glass dynamics: a twelve time-decades scaling study.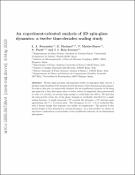 Advisors (or tutors)
Editors
Abstract
Recent high precision experimental results on spin-glass films ask for a detailed understanding of the domain-growth dynamics of two-dimensional spin glasses. To achieve this goal, we numerically simulate the out-equilibrium dynamics of the Ising spin glass for a time that spans close to twelve orders of magnitude (from picoseconds to order of a second), in systems large enough to avoid finite-size effects. We find that the time-growth of the size of the glassy domains is excellently described by a single scaling function. A single time-scale tau (T) controls the dynamics. tau (T) diverges upon approaching the T = 0 critical point. The divergence of tau (T -> 0) is Arrhenius-like, with a barrier height that depends very mildly on temperature. The growth of this barrier-height is best described by critical dynamics. As a side product we obtain an impressive confirmation of universality of the equilibrium behavior of two-dimensional spin-glasses.
Description
© 2019 IOP Publishing LTD We thank Raymond Orbach and Jose Angel del Toro for discussions. This project has received funding from the European Research Council (ERC) under the European Unions Horizon 2020 research and innovation program (grant agreement No 694925). We were partially supported by MINECO (Spain) through Grant Nos. FIS2015-65078-C2, FIS2016-76359-P, by the Junta de Extremadura (Spain) through Grant No. GRU10158 and IBI16013 (these four contracts were partially funded by FEDER). Our simulations were carried out at the BIFI supercomputing center (using the Memento and Cierzo clusters) and at ICCAEx supercomputer center in Badajoz (Grinfishpc and Iccaexhpc). We thank the staff at BIFI and ICCAEx supercomputing centers for their assistance.
Collections