Publication:
Fermion dynamics in torsion theories.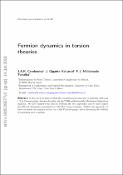 Advisors (or tutors)
Editors
Abstract
In this work we study the non-geodesical behaviour of particles with spin 1/2 in Poincare gauge theories of gravity via the WKB method. Within this approach, we calculate the trajectories in a particular Poincare gauge theory, discussing the viability of measuring such a motion.
Description
© 2019 Iop Publishing. This work was partly supported by the projects FIS2014-52837-P (Spanish MINECO), FIS2016-78859-P (AEI/FEDER, UE), Spanish Red Consolider MultiDark FPA2017-90566-REDC. FJMT acknowledges financial support from the National Research Foundation grants 99077 2016-2018 (Ref. No. CSUR150628121624), 110966 (Ref. No. BS170509230233), and the NRF IPRR (Ref. No. IFR170131220846). FJMT acknowledges financial support from the Erasmus+ KA107 Alliance4Universities programme and from the Van Swinderen Institute at the University of Groningen.
Collections