Publication:
Religious instruction in Spanish public schools: the confluence of equality, state neutrality and fundamental rights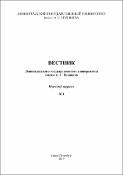 Authors
Advisors (or tutors)
Editors
Publisher
Ленинградского государственного университета имени А. С. Пушкина
Abstract
This paper explains the legal basis, structure and functioning of the system of religious teaching in public schools in Spain, and analyzes the various problems that it has raised in the last decades, with specific reference to the case law of the Constitutional Court and the European Court of Human Rights. The author pays especial attention to the perspective of legal equality and the state's religious neutrality, and concludes with the recommendation that future modifications of the system are based on a broad social and political consensus.
В статье рассматриваются правовые основы, структура и функционирова- ние системы обучения знаниям о религии в школах Испании. В свете решений Конституционного суда страны и Европейского суда по правам человека анали- зируются различные проблемы, возникшие в этой сфере образования за послед- ние десятилетия. Автор уделяет особое внимание перспективам правового регулирования и нейтральности государства в вопросах религии, предлагает свои рекомендации для модификации системы образования в этой сфере на ос- нове социального и политического консенсуса.
Collections