Publication:
Evidence for supersymmetry in the random-field Ising model at D=5.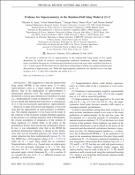 Advisors (or tutors)
Editors
Publisher
American Physical Society
Abstract
We provide a nontrivial test of supersymmetry in the random-field Ising model at five spatial dimensions, by means of extensive zero-temperature numerical simulations. Indeed, supersymmetry relates correlation functions in a D-dimensional disordered system with some other correlation functions in a D - 2 clean system. We first show how to check these relationships in a finite-size scaling calculation and then perform a high-accuracy test. While the supersymmetric predictions are satisfied even to our high accuracy at D = 5, they fail to describe our results at D = 4.
Description
© 2019 American Physical Society. We acknowledge partial financial support from Ministerio de Economia, Industria y Competitividad (MINECO, Spain) through Grant No. FIS2015-65078-C2, and from the European Research Council (ERC) under the European Union's Horizon 2020 research and innovation program (Grant No. 694925). N. G. F. and M. P. were supported by a Royal Society International Exchanges Scheme 2016/R1.
Collections