Publication:
Triggering the QCD phase transition through the Unruh effect: Chiral symmetry restoration for uniformly accelerated observers.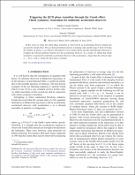 Advisors (or tutors)
Editors
Abstract
In this work we study the chiral phase transition as observed by an accelerating observer taking into account the Unruh effect. We use chiral perturbation theory at leading order and the large N limit (N being the number of pions) as an effective description of low-energy QCD, and the thermalization theorem to compute the relevant partition function for the accelerating observer. As a result, we obtain that chiral symmetry is restored for uniformly accelerated observers with acceleration a larger than the critical value a(c) = 4 pi f(pi), with f(pi) being the pion decay constant.
Description
© 2019 Amer Physical Soc. A. D. thanks Luis Álvarez-Gaumé and C. Pajares for very interesting comments and discussions and the CERN Theory Unit, where part of this work was done, for its hospitality. Work supported by the Spanish MINECO Grant No. FPA2016-75654-C2-1-P
Collections