Publication:
On the critical exponent a of the 5D random-field Ising model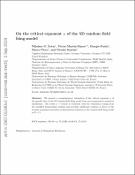 Advisors (or tutors)
Editors
Abstract
We present a complementary estimation of the critical exponent alpha of the specific heat of the 5D random-field Ising model from zero-temperature numerical simulations. Our result alpha = 0.12(2) is consistent with the estimation coming from the modified hyperscaling relation and provides additional evidence in favor of the recently proposed restoration of dimensional reduction in the random-field Ising model at D = 5.
Description
©2019 IOP Publishing. We acknowledge partial financial support from Ministerio de Economia, Industria y Competitividad (MINECO, Spain) through Grants No. FIS2015-65078-C2 and PGC2018-094684-B-C21, and from the European Research Council (ERC) under the European Union's Horizon 2020 research and innovation program (Grant No. 694925).
Collections