Publication:
La historia del arte en Galicia. Retos y obstáculos para una metodología tradicional en las profesiones del patrimonio cultural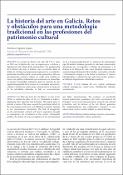 Authors
Advisors (or tutors)
Editors
Publisher
Grupo Español de Conservación del International Institute for Conservation, Asociación de Conservadores Restauradores de España
Abstract
La sección de Historia da Arte del CDLG nacía en 2014 con el objetivo de crear un espacio para la defensa y dignificación del trabajo de las profesionales y los profesionales de la Historia del Arte en Galicia. Con este artículo, desde el ámbito de la Sehag, nos proponemos representar a este colectivo profesional vinculado con la conservación, protección y difusión del patrimonio cultural y ofrecer un estado de la cuestión en torno a los perfiles profesionales que actualmente se desarrollan en nuestra Comunidad Autónoma, donde la ausencia de una regulación apropiada de los mismos en la normativa patrimonial, cultural y turística ha traído como consecuencia la devaluación de las Actividades realizadas, la falta de reconocimiento social y la precariedad laboral. La existencia de profesionales específicamente formados garantiza la adecuada conservación, documentación, investigación y difusión del patrimonio, y la defensa de la Historia da Arte como disciplina autónoma con competencias profesionales diferenciadas y con medios, métodos y herramientas propias, y es la forma de mantener el carácter interdisciplinar y colaborativo que toda intervención, estudio o actividad en el patrimonio cultural debe conllevar.
In 2014 was born the Art History section of the CDLG to defend the labor of the Art Historians in Galicia, dignifying their expertise and activities. his paper aims to provide a status of the issue around this profession linked to the conservation, protection, and difusion of cultural heritage in our Autonomous Community. he lack of recognition on the patrimonial, cultural and tourist regulation brought as consequence the devaluation of the current professional proiles, the deicit of social recognition of the art historians and labor precariousness. The existence of speciically trained professionals guarantees the better environment for heritage's conservation, documentation, research and cultural promotion, and the defense of the Art History guarantee the multidisciplinary and collaborative character of any intervention, study or activity related to cultural heritage.
Collections