Publication:
Análisis del riesgo de inundaciones en el curso medio-alto del río Tajo a su paso por Aranjuez (Madrid)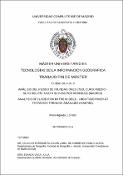 Authors
Advisors (or tutors)
Editors
Abstract
El presente documento se basa en el análisis de la vulnerabilidad social ante inundaciones en la localidad de Aranjuez (Madrid). En una primera fase, esta investigación muestra la aplicación del Índice de Vulnerabilidad Social (IVS) en la mencionada ciudad, ubicada en la llanura de inundación del río Tajo. En una segunda fase, se realiza la intersección espacial entre el IVS y los mapas de peligrosidad por inundación fluvial del ámbito de estudio, según períodos de retorno (10, 100 y 500 años), para obtener el riesgo demográfico. Como resultado, las secciones del distrito 1 (Foso-Moreras) contienen las principales zonas propensas al riesgo de inundación. El área de estudio seleccionada es de gran interés porque, pese a que la ocurrencia de eventos de inundación se ha reducido considerablemente con la construcción de los embalses de Entrepeñas y Buendía, históricamente Aranjuez ha sido la ciudad más afectada por avenidas del Tajo. Mediante las Tecnologías de la Información Geográfica (TIG), se demuestra que el riesgo de inundación aún existe y podría traducirse en perjuicios para la población, tanto a nivel económico como humano.
This document is based on the analysis of social vulnerability to floods in Aranjuez (Madrid). Firstly, this investigation shows the application of the Social Vulnerability Index (IVS) in the mentioned city, located in the flood plain of the Tajo river. Secondly, the IVS intersects with the flood hazard maps of the fiel of study, according to return periods (10, 100 and 500 years), to obtain the demographic risk. As a result, sections of district 1 (Foso-Moreras) contain the main areas prone to flood risk. The selected study area had a great interest because, although the occurrence of flood events has been greatly reduced with the construction of the Entrepeñas and Buendía reservoirs, historically Aranjuez has been the most affected city by avenues of the Tajo. Through Geographic Information Technologies (GIT), it is shown that the risk of flooding still exists and could result dangerous to people, in the economically and humanly way.