Publication:
Automatización y desarrollo de ejercicios sobre español académico a través de Moodle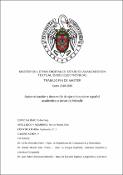 Authors
Advisors (or tutors)
Editors
Abstract
El principal objetivo de este proyecto ha sido el de aportar una solución a la modalidad en línea del "Curso 0: Filología y Tecnología. Introducción a la escritura, la informática, la información" de la Facultad de Filología de la Universidad Complutense de Madrid, en concreto para las actividades del módulo de español académico. Hasta 2018/19, era un curso semipresencial que se impartía a finales de septiembre, pero como consecuencia del adelanto del comienzo de clases tras la aplicación del Plan Bolonia ha sido necesario adaptar sus infraestructuras a un ámbito completamente digital. La plataforma elegida ha sido Moodle, ya que en comparación con otras (.LRN, Claroline, Dokeos, Ilias, Sakai) es la que mejores resultados obtiene y, también, es la plataforma por la que lleva apostando durante muchos años la propia UCM. Por otro lado, las cinco fases fundamentales en todo proceso de creación de unos ejercicios son: análisis, diseño, desarrollo, implementación y evaluación. En este caso, se ha añadido una sexta etapa, la automatización, con el fin de ayudar al docente en esta ardua tarea. Además, los ejercicios han sido probados con un grupo de estudiantes, cuyas valoraciones se exponen y analizan en este mismo trabajo.
The main objective of this project has been to provide a solution to the online modality of "Course 0: Philology and Technology. Introduction to writing, computer science, information" from the Faculty of Philology of the Complutense University of Madrid, specifically for the activities of the academic Spanish module. Until the academic year 2018/19, it was a blended learning course given at the end of September, but as a result of the early start of classes following the implementation of the Bologna Process, it has been necessary to adapt its infrastructures to a completely digital environment. The platform chosen was Moodle, since in comparison with others (.LRN, Claroline, Dokeos, Ilias, Sakai) it is the one that obtains better results and, also, it is the platform that the UCM itself has been betting on for many years. On the other hand, the five fundamental phases in any process of creating exercises are: analysis, design, development, implementation and evaluation. In this case, a sixth stage has been added, automation, in order to help the teacher in this arduous task. In addition, the exercises have been tested with a group of students, whose assessments are presented and analyzed in this same work.