Publication:
Inclusión socio-laboral de las mujeres con discapacidad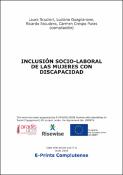 Advisors (or tutors)
Editors
Abstract
El libro, que recoge los resultados de una investigación aplicada sobre la inclusión socio-laboral de las mujeres con discapacidad, responde a un planteamiento interdisciplinario (derecho, filosofía, sociología, ciencias de la salud y de la educación) y utiliza un enfoque interseccional, ya que ha tenido que aunar dos variables complejas: el género y la discapacidad. El resultado es una obra que abarca diferentes cuestiones debido al hecho de que, para profundizar en la temática objeto de nuestra investigación, se han utilizado diversas claves interpretativas: unas transversales y más teóricas, como las reflexiones sobre los términos "discapacidad" o de "diversidad funcional". Y, otras, más prácticas, tienen por finalidad contribuir al conocimiento de la situación normativa y fáctica de las mujeres con discapacidad en relación al empleo. Y, a su vez, a proponer pautas de reflexión que ayuden a resolver los problemas que lastran la plena inclusión de dichas personas en la vida social y laboral. La exposición, también crítica, de la legislación vigente y de la negociación colectiva constituye el fundamento para reflexionar sobre las medidas que se podrían introducir para alcanzar una modificación sustancial de las vías y métodos para la integración laboral de las personas con discapacidad y, de manera particular, de las mujeres.
The book, which brings together the outcomes of applied research on the inclusion of women with disabilities in social and working life, draws on a number of disciplines (law, philosophy, sociology, health and education sciences) and employs an intersectional approach, combining two complex variables - gender and disability. The result is a work that covers different issues. To explore the subject matter of our investigation we used various interpretative keys: some cross-cutting and more theoretical, such as reflections on the terms "disability" and "functional diversity"; others, more practical ones, seek to improve knowledge of the legal and factual situations of women with disabilities in relation to employment. Their purpose is to offer guidelines in solving the problems that hinder the full inclusion of this group in social and working life. A critical discussion of current legislation and collective bargaining forms the basis of reflections on measures that could be introduced to substantially change the ways and methods used to include people with disabilities in the workplace, in particular, women.
Citation
Feminismo y disability studies. Una Introducción Bernardini M.G., Disabilità, giustizia, diritto. Itinerari fra filosofia del diritto e Disability Studies, Giappichelli, Torino, 2016. Bordo S., Feminism, Postmodernism, and Gender-Scepticism, en L.J. Nicholson (eds. by), Feminism/Postmodernism, Routledge, NY- London, 1990, pp. 133-156. Butler J., Gender Trouble: Feminism and the Subversion of Identity, Routledge, New York- London, 1990. Carlson L., Kittay E., Introduction, in E. Kittay, L. Carlsons (eds.), Cognitive Disability and its Challenge to Moral Philosophy, Wiley-Blackwell, 2010. Crenshaw K., Demarginalizing the Intersection of Race and Sex: A Black Feminist Critique of Antidiscrimination Doctrine, Feminist Theory and Antiracist Politics, in University of Chicago Legal Forum, vol. 1989, issue 1, art.8, pp. 139-167. Dale Stone S., Must Disability always be visible? The meaning of disability for women, in "Canadian Woman Studies", 13, 4, 1993. Fine M., Asch A. (eds. by), Women with Disabilities: Essays in Psychology, Culture, and Politics, Philadelphia: Temple University Press, 1988. Fine M., Asch A. (eds.by), Women with disabilities: Essays in psychology, culture, and politics, Temple U.P., Philadelphia, 1988. Garland Thomson R., Integrating Disability, Transforming Feminist Theory, in Kim Q. Hall (ed. by), Feminist Disability Studies, Indiana UP, Bloomington-Indianapolis, 2011, pp. 13-47. Garland Thomson R., Re-shaping, Re-thinking, Re-defining: Feminist Disability Studies, in B. Waxman Fiduccia Papers on Women and Girls with Disabilities, Centre for Women Policy Studies, 2001, http://www.centerwomenpolicy.org/programs/waxmanfiduccia/documents/ DIS2.pdf Gianformaggio L., Eguaglianza, donne e diritto, Il Mulino, Bologna, 2005. Hillyer Davis B., Women, Disability, and Feminism: Notes Toward a New Theory, in "Frontiers", VIII, 1, (1984), pp. 1-5. Kittay E., Forever Small: The Strange Case of Ashley X, in "Hypatia", 26, 3, 2011. Kittay E., trad it. La cura dell'amore. Donne, uguaglianza, dipendenza, 1999, Vita e Pensiero, Milano, 2010 (original: Love's Labor. Essays on Women, Equality and Dependency, Routledge, New York, 1999). Morris J., Pride against Prejudice, New Society Pub, USA, 1993; Nussbaum M., Frontier of justice, Belknap Press, Harvard U.P., 2007. Pozzolo S., La forza è nelle differenze, en "notizie di POLITEIA", XXXIV, 129, 2018, pp. 157-161. Ramazanoglu C., Feminism and The Contradictions of Oppression, Routledge, NY-London, 1989. Schriempf A., (Re)fusing the Amputated Body. An Interactionist Bridge for Feminism and Disability, Hypatia, 16, 4, 2001. Spelman E., Inessential Woman, The Women's Press, London, 1990. Thomson G., Misfit: A Feminist Materialist Disability Concept, in "Hypatia", 26, 3, 2011, pp. 591-609. Thomson G., Ways of Staring, in "Journal of Visual Culture", 5, 2, 2006, pp. 173-192. Wendell, S., Toward a Feminist Theory of Disability, en L.J. Davis (ed.by), The Disabilities Studies Reader, Routledge, New York, 1998. Young I. M., Throwing like a Girl and Other Essays in Feminist Philosophy and Social Theory, Indiana University Press, Bloomington, 1990. Derecho del trabajo, discapacidad y perspectiva de género Conde Rodríguez A., Portillo Mayorga I., Shum G., Discapacidad y empleo. Una perspectiva de género, in "Alternativas. Cuadernos de Derecho Trabajo Social", núm. 11, 2003. Esteban Legarreta R., Gutiérrez Colominas D., La incentivación del empleo de las personas con discapacidad en el medio ordinario de Trabajo, in "Revista Española de Discapacidad", núm. 1, vol. 2, 2014. Instituto de la mujer y para la igualdad de oportunidades, Integración en el mercado laboral de mujeres con discapacidad atendiendo a su nivel de estudios, BOE, Madrid, 2015. Instituto nacional de estadística (INE), El empleo de las personas con discapacidad, Nota de prensa, 2016, localizable en https://www.ine. es/prensa/epd_2016.pdf Observatorio Estatal De La Discapacidad, Informe Olivenza, sobre la situación general de la discapacidad en España, 2017, localizable en: https://observatoriodeladiscapacidad. info/attachments/article/110/Informe%20 Olivenza%202017%20v5.7.pdf Tarabini-Castellani Aznar M., Trabajadora extranjera y discriminación múltiple, comunicación presentada al XXIV Congreso Nacional de Derecho del Trabajo y de la Seguridad Social, Pamplona, 2014, ejemplar fotocopiado. La Integración laboral de las personas con discapacidad mediante la negociación colectIva: una mirada práctica Cendrero L.A., La discapacidad como factor de discriminación en el ámbito laboral, Tesis doctoral - Facultad de derecho de la UCM, Octubre, 2015. Nizzoli C, Pratiche sindacali nel settore delle pulizie, en "Cambio. Rivista sulle trasformazioni sociali", VII, 14, 2017, pp. 97-112 Peña-Ochoa M., Durán Palacio N.M., Justicia organizacional, desempeño laboral y discapacidad, en "Revista Colombiana de Ciencias Sociales", 7, 1, enero-junio, 2016, pp. 201-222. Impacto de la negociación colectiva sobre los trabajadores y trabajadoras con discapacidad, en http://fflc.ugt.org/Documentos%20de%20 apoyo/Impac-negcol-discapacidad.pdf (Ultima consulta, octubre 2018) Guía para favorecer el empleo de las personas con discapacidad a través de la Negociación Colectiva 2014, en http://fflc.ugt.org/Documentos%20 de%20apoyo/guia5_1.pdf. (Última consulta, octubre de 2018) Ámbitos, procesos y procedimientos de la intermediación laboral dirigida a personas con discapacidad, en http://fflc.ugt.org/ Documentos%20de%20apoyo/Informe%20 AMBITOS%20Y%20PROCESOS%20DE%20 LA%20IL(1).pdf (Última consulta, octubre de 2018)
Collections