Publication:
Sensibilidad luminosa espectral del sistema visual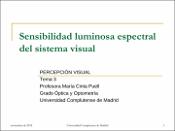 Advisors (or tutors)
Editors
Abstract
Se describen las funciones de eficiencia luminosa fotópica y escotópica, la relación entre la sensibilidad espectral y la absorción espectral de los fotopigmentos de los conos y bastones de la retina. También se describe la selectividad direccional a la luz de los fotorreceptores y se comentan las magnitudes fotométricas fundamentales.
Photopic and scotopic luminous efficiency functions and the relationship between spectral sensitivity and spectral absorption of cones and rods photopigments are described. Light directional selectivity of photoreceptors is also described and the fundamental photometric magnitudes are discussed.