Publication:
Diseño y construcción de una impresora 3D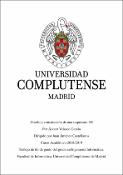 Authors
Advisors (or tutors)
Editors
Abstract
Desde los orígenes de la impresión 3D en 1986, fecha en la que se patentó la estereolitografía (STL), ha experimentado un crecimiento exponencial. Comenzó siendo una herramienta usada solo en proyecto ingenieriles, arquitectónicos o científicos y ha pasado a poder usarse en el ámbito estudiantil, doméstico, etc. Esto se ha debido principalmente a: -Vencimiento de algunas patentes -Desarrollo de la tecnología -Abaratamiento del sistema de producción de la tecnología. Con el paso de los años, ésta tecnología acabará integrándose en nuestro día a día y será tan cotidiano como los ordenadores o los teléfonos móviles. Es un mundo de oportunidades y parece la dirección hacia la que apunta el futuro. Sin embargo la tecnología no ha conseguido difundirse a nivel usuario. Es cierto que la tecnología ha sufrido un descenso drástico en su precio, pero no el suficiente como para que sea asequible para la mayoría de bolsillos. Si nos fijamos en los precios del mercado, vemos como una impresora totalmente funcional, montada y operativa, con una calidad media-baja cuesta alrededor de 900 dólares, lo cual si lo juntamos con el hecho de que el usuario medio no ve gran utilidad en el uso de esta tecnología tenemos una combinación muy mala. Es decir, a nivel hogar o personal no parece ser una herramienta muy útil, sigue quedándose en el marco de uso de ingenieros, arquitectos, etc. Lo que haría falta para que terminara de arrancar esta tecnología y llegara a las cotas de la telefonía o los ordenadores sería buscarle nuevas utilidades o en su defecto desarrollar o encontrar nuevas aplicaciones. Encontrar estas aplicaciones sería más sencillo si existiera una plataforma completa (diseño estructural, hardware y software) de una impresora fácilmente accesible para los usuarios. De este modo, al ser más sencilla y más accesible para todos, los usuarios podrían colaborar sin tantas dificultades a la hora de encontrar nuevas utilidades. Es por ello que este proyecto tiene por objetivo desarrollar un punto de partida inicial de una impresora 3D unificada (diseño estructural, software y hardware) para poder cumplir los siguientes objetivos: -Potenciar esta tecnología. -Sentar las bases de un diseño software-hardware para extender esta tecnología. -Desarrollar mis aptitudes ingenieriles adquiridas durante la carrera y poner a prueba éstas.
Since the origins of 3D printing in 1986, the date on which the estereolitograf´ıa (STL) was patented, it has experienced exponential growth [50]. It began as a tool used only in engineering, architectural or scientific projects and has become available in the student, domestic, etc. • This has been mainly due to: • Expiration of some patents • Development of technology • Abatement of the technology production system Over the years, this technology will end up being integrated into our day to day and will be as commonplace as computers or mobile phones. It is a world of opportunities and it seems the direction towards which the future is pointing. However, technology has not been disseminated at the user level. It is true that technology has suffered a drastic decline in its price, but not enough to make it affordable for most pockets. If we look at the market prices, we see how a fully functional, assembled and operational printer with a medium-low quality costs around 900 dollars [1], which if we put it together with the fact that the average user do not see great utility in the use of this technology we have a very bad combination. That is, at home or personal level does not seem to be a very useful tool, it remains within the framework of the use of engineers, architects, etc. What it would take to finish to start this technology and reach the heights of telephony or computers would be to seek new utilities or failing to develop or find new applications. Finding these applications would be easier if there was a complete platform (structural design, hardware and software) of a printer easily accessible to users. In this way, as it is easier and more accessible for all, users could collaborate without so much difficulty when it comes to finding new utilities. That is why this project aims to develop an initial starting point for a unified 3D printer (structural design, software and hardware) to meet the following objectives: • Enhance this technology. • Build a foundations of a software-hardware design to extend this technology. • Develop my engineering skills acquired during the race and put these to the test.
Description
Trabajo de Fin de Grado en Ingeniería Informática, Facultad de Informática UCM, Departamento de Arquitectura de Computadores y Automática, Curso 2018/2019