Publication:
Eterna Marilyn. Desmitificación del icono y producción ilustrada a través de un enfoque contemporáneo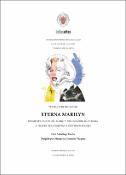 Authors
Advisors (or tutors)
Editors
Abstract
El presente trabajo desarrolla la desmitificación ilustrada del icono, proyectando un relato ficcional que versa en un vínculo con Marilyn Monroe. La producción se apoya en conformar un libro ilustrado que aúna dibujo, pintura, fotografía y grabado junto a palabra y poesía. Asimismo el objeto de estudio rescata un análisis crítico que justifica y contrasta los diversos temas expuestos a través de un recorrido teórico que plantea la ilustración como movimiento trascendental. Para ello, el trabajo recoge una selección de personajes influyentes, considerando sus prácticas artísticas, psicoanalíticas y literarias, para facultar de una comprensión sobre el dibujo en la obra. Del mismo modo, se expone el desarrollo y producción del libro ilustrado, la experiencia como autor en la industria editorial y la realidad de la gestión y publicación de la obra en el contexto artístico contemporáneo.
The present work developes the illustrated demystifying of the icon, projecting a fictional story related to Marilyn Monroe. The production is based on shaping an illustrated book where drawing, painting, photography, word and poetry belong together. Also, the object of study contrasts different themes through a theorical path that raises illustration as a transcendental movement in contemporary art. The work picks up a selection of influential characters, as well as their artistic and psychoanalytic practices, to understand the drawing in the artpiece. In the same way, the work exposes the development and production, the experience in the editorial industry, the editorial management reality as author and the publication of the work in the current artistic context.